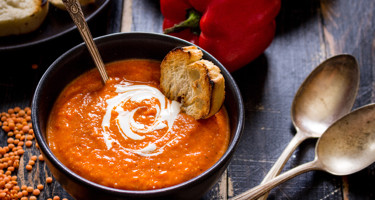 Delicious home-cooked meals don't necessarily take a long time to prepare. Especially when it comes to soups! This makes them great for Ramadan as they allow you to spend less time cooking and more time focusing on the important things: spending time with your family as well as self-reflection, prayer, connecting with God and your community, and doing good deeds. Read on to learn more about some delicious and easy soups for Ramadan we suggest you explore during this special time of year.
Fuss-free, quick and easy Ramadan soups
Soups are great for Ramadan because they make for a light meal. This also means Ramadan soups are great for breaking fast at iftar as they don't overwhelm you after a day of abstaining from food and drink. You can choose to drink it, carefully, to get warmth slowly after a long day of fasting. These comforting dishes will warm your stomach, preparing you for the other iftar dishes to come.
Fortunately, our Ramadan soups are incredibly easy to make as they do not need to boil for hours on end to bring forth the incredible flavours of the chopped ingredients. All our easy Ramadan soup recipes can be made in under 1 hour and since many feature pre-made sauces or dairy products like cream and cheese, you don't need to worry about thickening them.
Since our recipes are simple and easy to follow, you can get younger family members, or those who don't have much cooking experience, to help in the kitchen. This way you can spend precious time together as a family during Ramadan and still have a lot of time together out of the kitchen, too. Involving everyone in the cooking process of making an easy Ramadan soup also makes it easier for everyone to truly appreciate these home-cooked meals.
Red lentil soup with carrots and potatoes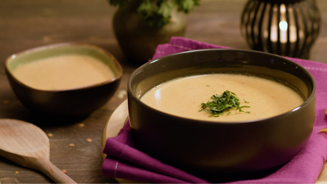 Traditionally, soups with lentils are always served during Ramadan. Though it may sometimes be the case, traditional doesn't have to mean difficult or time-consuming. With our simple recipe for lentil soup with cooking cream, you get a deliciously smooth, easy Ramadan soup with puréed vegetables and lentils.
Served with fried flatbread on the side, the potato, carrot, and bell pepper make for a wonderful iftar dish with subtle flavours that are at once sweet, earthy, and nutty. As such, this easy Ramadan soup is a definite must-try!
See the red lentil soup recipe >
Creamy tomato and vegetable soup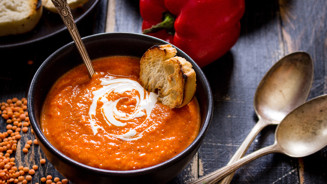 This incredibly quick Ramadan soup is made using a flavourful pre-made cream-enriched tomato sauce packed with rich and tangy tomato flavour. As such, our creamy tomato and vegetable soup can be prepared with minimum effort.
The smooth, thick, and easy Ramadan soup, which is made with leeks, celery, pumpkin, and potato, has sweet and savoury flavours. It makes for a lovely dish that can easily be varied by using different spices to appeal specifically to the taste of friends, family, and loved ones.
See the tomato and vegetable soup recipe >
Cream of chicken soup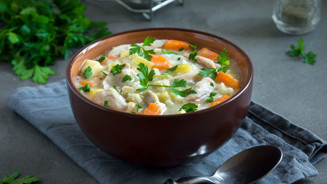 Did you know that you can use Béchamel Sauce with Cheese as a tasty base for soups? If not, we recommend trying our cream of chicken soup. This creamy and easy Ramadan soup with onion, celery, and shredded rotisserie chicken has loads of deep umami flavours that come together to create an incredibly comforting dish.
Slightly bitter spinach and peppery parsley are used to brighten its decadent, buttery cheesiness. Using a pre-made béchamel sauce cuts down on cooking time and gives the easy Ramadan soup a wonderful, warming taste of nutmeg.
See the cream of chicken soup recipe >
Creamy mushroom soup
Another great quick iftar soup with plenty of umami flavour is our creamy mushroom soup made using Béchamel Sauce with Cheese as the base. The pre-made sauce gives our easy Ramadan soup with mushrooms a wonderful, cheesy richness with hints of butter and nutmeg and makes cooking it wonderfully quick and easy.
Leeks and garlic give it great depth and since it may be made with your favourite type of mushrooms, you can easily play around with changing the flavour profile of this easy Ramadan soup in subtle ways.
See the creamy mushroom soup recipe >
Broccoli soup with cream and cheese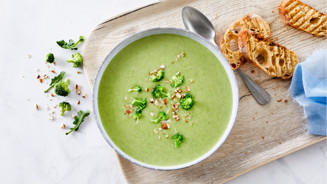 With cooking cream and Squeeze Cheese, making this broccoli soup delightfully creamy is incredibly simple. This easy Ramadan soup has a vibrant green colour and a mild earthy and herbaceous flavour.
Onion and chicken broth add depth and salt, while the melty cheese gives this easy Ramadan soup a wonderfully thick texture and richness without you having to spend time thickening it. This simple yet incredibly wholesome dish is perfect for Ramadan and is sure to be a hit with the children in your life.
See the broccoli soup recipe >
Carrot soup with cream cheese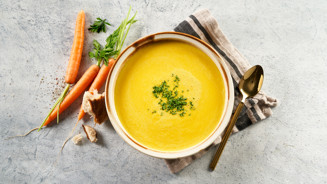 Our cream cheese carrot soup has an arresting yellowy-orange colouring that is sure to catch the eyes of your family and loved ones. The root vegetable gives this easy Ramadan soup a sweet, earthy flavour profile balanced by the base of sautéed onions and vegetable broth.
Blending it with thick cream cheese is an incredibly simple way to thicken it and give it a velvety smooth texture. Using tangy cream cheese instead of, for instance, cooking cream also freshens this easy Ramadan soup in a wonderful way that prevents it from becoming overly sweet.
Potato soup with cream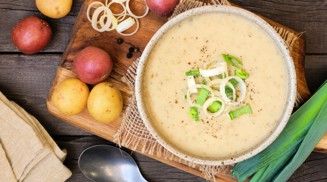 Potato soup is a true classic, and, as such, also deserves a spot in your Ramadan repertoire. Made with potato, leeks, and cream, this easy Ramadan soup is thick and tasty. It has subtle sweet and earthy flavours that are accentuated by the cream. 
It is also lightened by the crunchy and fresh topping of leeks, which creates a wonderful textural contrast to the velvety, puréed soup. It also gives this easy Ramadan soup a quality that is sure to impress.
Delicious quick recipes for a tasty iftar and suhoor
Quick and tasty Ramadan soups are a great addition to your rotation of recipes for cooking during Ramadan. Especially when you consider that soups can be cooked in large batches, enjoyed at iftar as well as suhoor, and frozen if you have any leftovers.
A quick suhoor soup will give you a great start to the day. But, of course, we also have a wealth of other quick and easy suhoor recipes to ensure you and your family start right every day during Ramadan.
If you prefer to enjoy an easy Ramadan soup during your sunset meal, you might like to pair it with a delicious Ramadan salad. You can easily prepare these salads at the same time as your soups as these often need to simmer for some time.
As Ramadan soups in small quantities make for great starters, you might also like to see our top 9 easy-to-prepare iftar dishes and Ramadan desserts to get inspired for what other lovely dishes to adorn your iftar table with other than an easy Ramadan soup. Whether you are in the mood for traditional Middle Eastern dishes or want to experiment with different cuisines, we have something for you.
More Ramadan themes