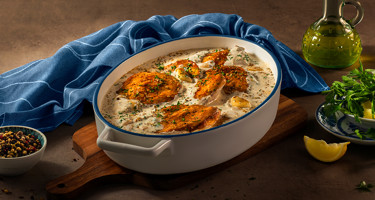 Since Ramadan usually entails a lot of cooking, it means a lot how quick and easy the iftar dishes are. That is precisely why we have made this collection of easy recipes for iftar. We hope these simple, yet delicious, dishes will inspire you and your family to cook great meals without overworking yourself and spending too many hours on your feet in the kitchen.
Easy iftar recipes you can make ahead and are quick to make
Since many of our quick and easy Ramadan recipes for iftar require few ingredients, they are easy to shop for. The simple ingredient list, which often features pre-shredded cheese and ready-to-use sauces, also makes these easy iftar recipes hassle-free and straightforward.
Most of our quick recipes for iftar, which include oven bakes, casseroles, and pasta dishes, take less than 1 hour to make. These types of dishes are easy to reheat which makes them suitable for making ahead of time. As such, you can prep many delicious iftar meals to store in the fridge and freezer until you need them. Meal prepping and serving tasty leftovers allows you to spend more time on family, prayer, and self-reflection during Ramadan.
Our top 10 iftar recipes are all easy, quick, and simple, and they are quite different with a myriad of vegetables, meats, cheese, spices, and herbs. Many cuisines are also represented to keep things interesting during this special time.
Cheese sambousek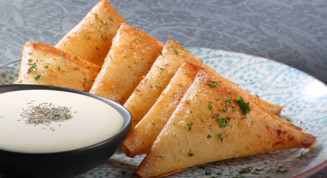 To set an iftar table that will impress and delight, you need a great selection of appetisers and snacks. Our easy iftar recipe for cheese sambousek makes for one such snack. If you make these treats ahead of time, we recommend reheating them slightly in the oven. Serving them warm creates a delicious contrast between the pastry and filling.
The combination of flaky phyllo pastry that has been fried to ensure maximum crispness and soft, savoury cheese filling is amazing. Flavoured with mint, parsley, and fennel seeds, the cream cheese and halloumi filling is vibrant and herbaceous.
See the cheese sambousek recipe >
One pot lasagne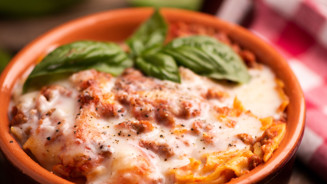 As the name suggests, our one pot lasagne can be made using a single pot. As such, this cheesy pasta dish with mozzarella, ricotta, and parmesan is one of our easy iftar recipes that require the least amount of washing up. It is the perfect example of why easy iftar recipes are perfect for busy times like Ramadan.
By using a tasty, ready-to-use tomato sauce, you can cut down cooking time considerably without compromising on great flavour. Made with beef mince as well as beef stock, this meaty lasagne sauce is dripping with umami. As such, it is sure to be a hit with anyone you serve it to.
See the one pot lasagne recipe >
Creamy chicken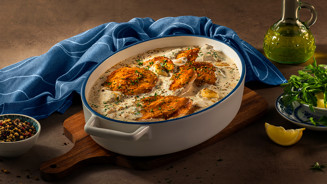 A collection of easy iftar recipes must, of course, include some tasty chicken dinner ideas. This creamy chicken is wonderfully simple to make as it just requires you to make a simple sauce by blending cream cheese spread, milk, onion, fresh mint and coriander, and spices, pouring it over the chicken breast, and popping them in the oven.
Though the sauce is thick and creamy, it gains an underlying freshness from the tangy cream cheese and vibrant herbs that keeps it from becoming too heavy. The cooling mint and lemony coriander provide a wonderful flavour to the mild and tender chicken. Served with long-grain rice to soak up the saucy goodness, this dish is sure to be a winner with guests of all ages.
See the creamy chicken recipe >
Middle Eastern eggplant spaghetti bolognese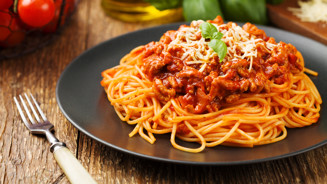 If an Italian classic with a distinct Middle Eastern twist sounds perfect for your iftar celebration, this eggplant bolognese is just right for you. Flavoured with staple spices from Middle Eastern cuisine – cumin, coriander, and chilli flakes – the timesaving, ready-to-use tomato sauce is taken to new heights, and the cubed eggplant adds some texture. The warm spices give the classic dish additional depth, a robust earthiness, as well as a bright citrussy quality that makes it stand out among our many delicious, easy iftar recipes. And, if you want to make it ahead, you can easily leave it on the stove on low heat for a few hours; this will only give the many spices more time to evolve.
See the eggplant bolognese recipe >
Pasta bake with white sauce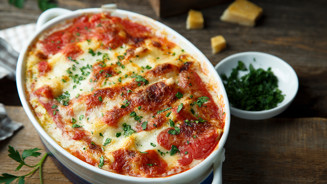 Another of our easy iftar recipes which brings together different delicious cuisines is this pasta bake with white sauce. The tasty lasagne-like oven bake consists of pasta with an Italian tomato sauce flavoured with classic Middle Eastern spices like cinnamon and a rich, French béchamel sauce with hints of nutmeg.
Since this scrumptious white sauce is pre-made, making this layered treat is incredibly quick. As it spends about half the 45 minutes it takes to cook it in the oven it is also quite hands-off. Easy iftar recipes like this are great as they allow you to focus on cooking something else as they bake or take a short break, so you don't overwork yourself during the Holy Month.
See the pasta bake with white sauce recipe >
Shrimp in lemon butter sauce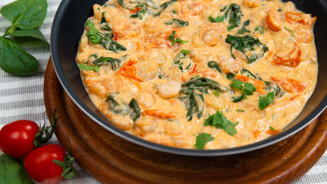 The quickest dish in this top 10 easy iftar recipes is without a doubt our recipe for shrimp with lemon butter sauce. Served with a ready-to-use lemon and butter sauce, these pan-seared seafood delights take mere minutes to cook. The juicy, lightly caramelised shrimp taste amazing with the delicate and slightly acidic lemon butter sauce. To spice things up, we have added a bit of crushed garlic and chilli flakes to offset the buttery creaminess of the sauce.
Though this dish, unlike some of our other easy iftar recipes, should not be made ahead of time, because the shrimp will become less tender as they cool, its short cooking time and incredible flavour profile make it well worth a try. Enjoy it as a light snack or serve it with rice, couscous, or crusty bread.
See the shrimp with lemon butter sauce recipe >
Cheesy potato casserole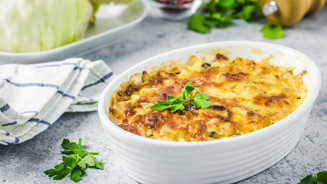 Made with just a few different ingredients, shopping for and cooking this cheesy potato casserole requires very little effort. It is perfect for busy times when you have a lot going on but you still want to serve a hearty meal to your family and loved ones. Like many of our other easy iftar recipes, this casserole with layers of sliced potatoes, béchamel sauce, parmesan, and mozzarella mostly just sits in the oven. In the oven, it becomes wonderfully creamy as the cheese melts and combines with the rich pre-made sauce. This sauce is buttery smooth and has subtle hints of nutmeg. When combined with the mild and lightly salty cheese, the result is a gooey potato casserole that is sure to warm stomachs and hearts after a day of fasting.
See the cheesy potato casserole recipe >
Chicken kofta with cheese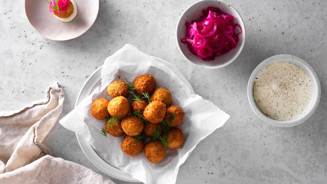 Kofta is a Middle Eastern classic and, as such, adding this cream cheese version to your repertoire of easy iftar recipes is a no-brainer. These crispy chicken kofta can be used as a snack, or appetizer, or served with rice, bread, and dips to create a main course that will tickle the tastebuds. The tender chicken and mashed potatoes are flavoured with garlic powder, allspice, and fresh herbs. The cream cheese spread ties these delicious flavours together and its slight tanginess pairs wonderfully with the juicy chicken. Breaded and fried to golden perfection, these balls, which are crunchy on the outside and deliciously moist on the inside, are simply perfect for iftar.
See the chicken kofta recipe >
Mashed potatoes with mushroom sauce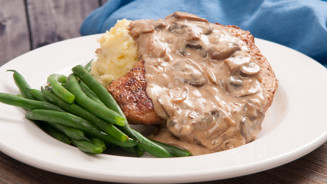 Sometimes all you need after a long day of fasting is comfort food to warm your body and soul. In that case, creamy mashed potatoes are just the thing. This delicious, comforting dish is incredibly easy to make and requires very few ingredients. By mixing mashed potatoes with melted butter and mushroom sauce, the mash becomes creamier and smoother than you ever dared dream.
Since the sauce is pre-made and ready to use, you don't have to spend a long time bringing the mushroom's delicious umami flavour forward. As such, these mashed potatoes are like our other easy iftar recipes hassle-free! Try them during Ramadan to serve a scrumptious side dish that will pair well with grilled steak, roast chicken, and a wealth of different vegetables.
See the mashed potatoes with mushroom sauce recipe >
Tips on making an easy iftar and suhoor table
Sometimes the most delicious meals are also the easiest, and our top 10 easy iftar recipes proves that to perfection.
Selecting recipes that require few ingredients, using pre-shredded cheese, or opting for a ready-to-use sauce makes cooking easy. This is perfect for the Holy Month during which you often cook a lot of different dishes for many people but also want to focus on spending time with family. Cooking for Ramadan is tradition-rich but that does not have to entail it being difficult or a full day activity.
Besides choosing ready-to-use ingredients and easy iftar recipes, you can also make things easier for yourself by serving Ramadan soups that are full of flavours. We have several recipes for soups for Ramadan you can make in under 1 hour. Check it out to get even more great, easy iftar ideas.
To create a perfect iftar menu, you, of course, will also need to select delicious Ramadan desserts to follow your quick iftar meals and round off the evening. Fortunately, we also have a lot of desserts that fall under the category of easy iftar recipes. Have a look at them before you decide on what easy things to make for iftar.
More Ramadan themes