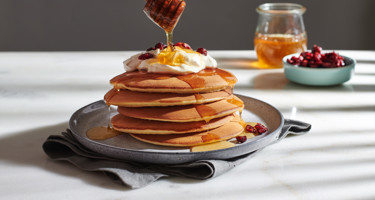 Suhoor is an important meal during the holy month of Ramadan for Muslims around the world. It is the pre-dawn meal consumed before the sun rises, marking the beginning of the day's fast. To get off to a good start, we have a few quick suhoor ideas that will be easy to make before sunrise. But suhoor is more than just a meal. It is a time when family and friends gather to enjoy the first meal of the day and the last meal before the fast begins. This communal meal is a time for bonding and sharing, making it an essential aspect of the Ramadan experience.
Recipes to prepare ahead to quickly serve suhoor
During the holy month of Ramadan, suhoor allows you to recharge and start the day with energy and focus. However, in the hustle and bustle of preparing for the fast ahead, it can be challenging to find the time to prepare a delicious meal. That is why our quick and easy suhoor ideas with sweet and savoury flavours are the perfect solution for making a fuss-free, quick suhoor meal.
Start the day right with our 7 delicious and easy suhoor ideas. These recipes are perfect if you are busy or looking to prepare a meal for many people in no time. With minimal prep time and maximum taste, these easy suhoor ideas are perfect for those who want to make the most of their suhoor meal without spending hours in the morning preparing it.
1. Fluffy pancakes with labneh topping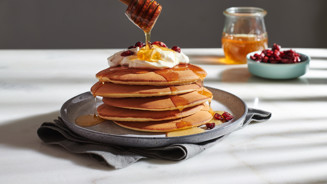 Try out our recipe for fluffy pancakes with labneh and discover your new favourite among our easy suhoor ideas! Made with just a few simple ingredients, these pancakes are light, fluffy, and perfect for a quick breakfast during Ramadan. Topped with creamy labneh, sweet honey, and dried cranberries, these pancakes are a Middle Eastern twist on a classic breakfast dish. Plus, with easy preparation and quick cooking time, they make the perfect, easy suhoor recipe.
See the fluffy pancakes with labneh recipe >
2. Shakshuka with cream cheese spread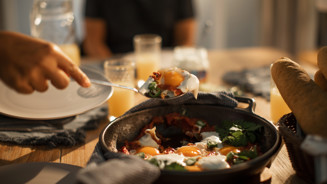 Get ready to spice up your suhoor with this delicious Arabic shakshuka recipe. With poached eggs nestled in a perfectly spiced tomato and green pepper sauce, this dish is a great way to start the day. What makes it even more irresistible is the creamy and rich addition of cream cheese on top. The creaminess of the cheese balances out the spiciness of the sauce, making it a savoury and delicious combination. Served with crispy baguette, fresh coriander, and sliced chilli, this dish is both easy and quick to make, perfect for an early morning meal, and soon becoming one of your favourite easy suhoor ideas.
3. Paratha sandwich with labneh and paneer cheese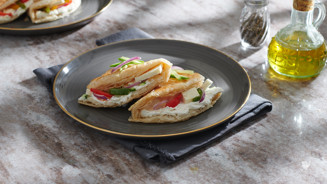 Enjoy the combination of fresh vegetables, creamy labneh, and mild paneer cheese, all stuffed into crispy and flaky paratha bread – this sandwich has it all! The sweet crispiness of the bell peppers, the refreshing coolness of the cucumber, and the sharpness of the onion slices, all complemented by the juicy and sweet freshness of the tomato, make for a truly flavourful and well-balanced dish. The mild and dense paneer cheese adds richness to the sandwich, while the creamy and slightly tart labneh brings a perfect counterbalance to the sweet and crisp flavours of the vegetables. Perfect for suhoor or iftar, this paratha sandwich with labneh is sure to tickle your taste buds.
See the paratha sandwich recipe >
4. Mushroom and cheese omelette
Brighten your morning with a delicious mushroom and cheese omelette! This recipe combines fluffy eggs with rich and creamy cream cheese and tender, earthy mushrooms, making it one of our most delicious classic easy suhoor ideas. The richness of the cream cheese perfectly balances the light and fluffy eggs, while the mushrooms add depth and savoury flavour. It is a quick and easy breakfast that is sure to pamper your palate. To add a pop of colour and freshness, the omelette is garnished with parsley, tomato slices, and green onion.
See the mushroom and cheese omelette recipe >
Easy suhoor recipes to make with little time and effort
Making a delicious suhoor meal does not have to be a daunting, long task. With our quick and easy suhoor ideas and a helping hand from your loved ones, you can whip up a flavourful suhoor meal in no time without compromising on taste.
Want something sweet to finish your Iftar meal? Head over to our Ramadan dessert page for some delectable treats filled with traditional flavours like dates and pistachio. Need something to warm you up during the pre-dawn hours? Check out our soups you can make in under 1 hour for hearty, warm, easy soup ideas. So, what are you waiting for? Let us get cooking and have a blessed Ramadan!
More Ramadan themes