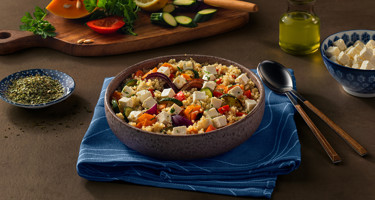 After a day of fasting, starting with a light iftar salad that wont overwhelm your body is a great idea. The best Ramadan salads have delicious textures and flavours that tickle the tastebuds. Because of their colourful look and lightness, they make for a wonderful addition to your iftar table as they serve as a brightening counterpoint to heavier dishes.
Traditional rocca salad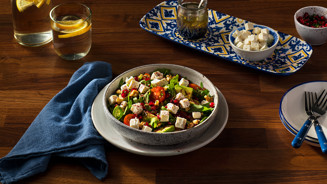 A perfect Ramadan salad for iftar is rocca salad. This traditional Middle Eastern rocket salad with walnuts and pomegranate seeds is colourful and filled with vibrant flavours. From peppery rocket leaves and sweet-sour pomegranates to mild avocado and salty feta cheese, it makes for an incredibly tasty side dish to other traditional dishes like eggplant fatteh and potato kibbeh.
The rich balsamic vinaigrette dressing with which this Ramadan salad is tossed perfectly balances the slight spiciness of the rocket. The avocado and walnuts add wonderful textures – both creamy and crunchy.
See the traditional rocca salad recipe >
Chicken Caesar salad with feta cheese
Another great Ramadan salad recipe is our chicken Caesar salad with feta cheese. Made with fresh lettuce, tomatoes, and avocado, this Ramadan salad is refreshing. The tender chicken breast ensures that you have a dish that may be enjoyed as a main course. With salty feta cheese, crunchy homemade bread croutons, and its tangy signature dressing flavoured with anchovies, capers, pickles, and lemon juice, our twist on this classic makes for a perfect addition to your iftar table.
See the chicken caesar salad recipe >
Quinoa salad with feta and roasted vegetables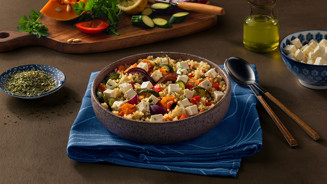 Another great dish to serve at iftar is this quinoa salad with feta and roasted vegetables. Quinoa, which has a lovely nutty flavour, is the heart of the dish. And this hearty Ramadan salad features both butternut squash as well as red bell pepper, red onion, and zucchini to create a flavourful dish. Oven-roasting these garlic and oregano-flavoured vegetables makes them incredibly tasty and allows them to become slightly caramelised. The salty, tangy feta cheese complements and balances the sweetness of the vegetables and the honey vinaigrette wonderfully.
Watermelon salad with salad cheese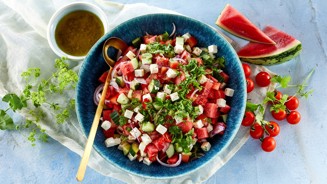 Another salad for Ramadan is our watermelon salad with salad cheese. Made with fresh watermelon, tomatoes, and cucumber, this Ramadan salad is a true crowd-pleaser that is sure to delight after a long day of abstaining from food and drink.
Flavoured with salty white cheese, aromatic coriander, zesty lime, and a bit of red chilli, this dish has a complex flavour profile that hinges on the wonderful combination of sweet and salty. Try this Ramadan salad as a starter to wake up your tastebuds and prepare your body for heartier dishes to come.
See the watermelon salad recipe >
Enjoy a Ramadan salad as a snack or light meal at iftar
Our easy-to-follow iftar salad recipes may be used to prepare great dishes to serve as starters, light meals, or side dishes. Since they are all quite quick and simple to make, you can even prepare a few different ones to ensure that your family and loved ones enjoy tasty meals.
As a side dish, a colourful Ramadan salad pairs perfectly with traditional Ramadan soups. The contrast between fresh, crispy salads and smooth and creamy soups is delightful and makes for a wonderful iftar meal.
You can also easily serve your Ramadan salad of choice with one of our easy-to-prepare iftar dishes, many of which are deliciously cheesy and would benefit from a bright, vibrant side dish. To make a Ramadan salad a stand-alone meal, you might serve it with slices of bread or with a combination of different dips and flatbread.
If you are looking for something sweet to round off your iftar meal, you should check out our Ramadan desserts to learn more about how best to enjoy sweet treats during the Holy Month. You can also read more about traditions, cooking, and dishes for Ramadan so you are wholly ready to start fasting.
More Ramadan themes