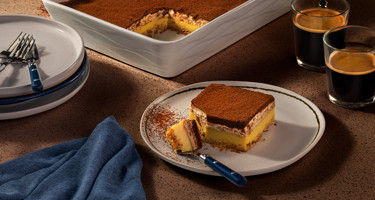 As the sun dips below the horizon during the month of Ramadan, the anticipation for iftar starts to build. After a long day of fasting, there is nothing more satisfying than breaking the fast with a savoury iftar meal followed by an array of delicious traditional Ramadan desserts full of unbelievably delicious aromatic flavours.
These desserts are not just about satisfying your sweet tooth. They are a symbol of gratitude and celebration and the act of sharing sweets with others is considered a gesture of kindness and generosity towards the people you share the meal with, sharing a piece of traditional family recipes with family and guests.
Sweet Ramadan desserts with traditional flavours
As the month of Ramadan rolls around, it is time to indulge in the most delicious and sweet traditional iftar desserts. When it comes to traditional Middle Eastern cuisine, it is all about the flavours and spices. From the rich, nutty flavours of pistachios and almonds to the floral scents of rose water and orange blossom water, a Ramadan dessert is meant to be, and is, a feast for the senses.
One of the most common ingredients in Middle Eastern desserts is phyllo dough, a paper-thin pastry that is used to create some of the most famous regional treats like, for example, baklava and kunafa. The flaky, crispy texture of the dough provides the perfect base for sweet and nutty fillings, such as pistachios, almonds, and walnuts.
Floral flavours are also popular in Middle Eastern desserts, with rose water and orange blossom water being two of the most commonly used. These fragrant ingredients infuse desserts with a delicate and delicious fragrance, adding a touch of elegance to any Ramadan dessert.
Spices like cardamom, cinnamon, and nutmeg are also commonly used in desserts for Ramadan, providing warm and comforting flavours. These spices can be found in everything from sweet and creamy puddings to crunchy pastries and nut-filled confections.
A time of nostalgia and good traditional recipes
From the buttery basbousa to the crispy crunch of knafeh, these Ramadan desserts are steeped in nostalgia, tradition, and history. Each family has their take on these classic treats passed down from generation to generation. And, just like the iftar meal itself, the sharing of desserts during Ramadan brings families and communities together, sharing the flavours you were brought up with, maybe only savouring them during the month of Ramadan, craving them all year.
So, take joy in a month full of flavour and wonderous culinary experiences, keeping traditions alive with traditional Ramadan dessert recipes. Just be warned, these desserts are so good, you may never want to leave the table! Add some sweetness to your iftar with our top 7 Ramadan dessert ideas, and let the traditional Middle Eastern flavours, spices, and ingredients transport you to another world.
Qatayef with cream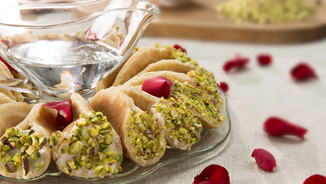 If you are looking for Ramadan dessert ideas, qatayef with cream is a must-try. These sweet, folded mini pancakes are filled with a rich and creamy filling and then dipped in chopped pistachios for a pop of colour, flavour, and crunch.
This easy Ramadan dessert recipe features a homemade ashta cream made with milk, cream, and cornflour, flavoured with fragrant rose water. The sweet mini pancakes are the perfect vessel for this delicious cream filling, and the pistachios add a beautiful finishing touch.
Qatayef with cream is a special treat that will leave your guests wanting more. Their half-moon shape makes them easy to pick up and enjoy, and the beautiful display on a decorative platter makes for an enticing serving that is sure to impress in both looks and taste.
Umm Ali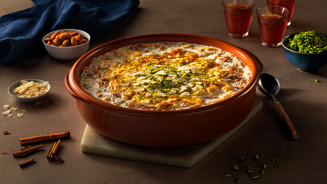 Entice your tastebuds with a traditional Egyptian Ramadan dessert. Known by many different names, umm Ali is easy to make and tastes delicious. The creamy bread pudding is made with puff pastry, a variety of nuts, and warm spices like cinnamon, resulting in a flavour that is both rich and comforting.
This classic Ramadan dessert, which is said to have been named after the wife of an Egyptian sultan, has been a staple for special events throughout the Middle East for centuries. And with its delightful combination of textures and flavours – from the crispy puff pastry to the creamy filling and crunchy nuts – it is no wonder that it remains popular to this day.
Knafeh with cream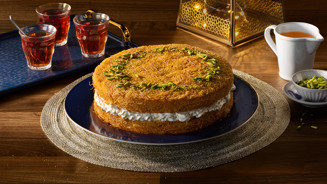 Knafeh with cream is a popular Middle Eastern Ramadan dessert. These single-serving Middle Eastern treats feature a crispy pastry base, a velvety cream filling, and a generous drizzle of orange blossom syrup.
The shredded kataifi pastry used to create the crispy crust is popular throughout the Middle East and Mediterranean and is known for its neutral taste and ability to become crunchy when baked. When paired with the creamy and rich filling, the result is a dessert with a wonderful mix of textures and flavours.
The addition of the homemade orange blossom syrup adds a delicious floral undertone to this sweet Ramadan dessert without overpowering the other flavours. And with toppings like pistachios, orange blossoms, and dried roses, each knafeh is a beautiful work of art in addition to being a delicious treat.
See the knafeh with cream recipe >
Luqaimat with cream cheese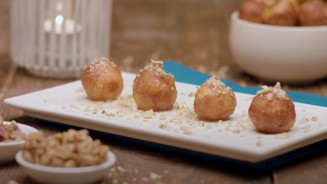 Looking for a Ramadan dessert that is crispy, gooey, sweet, and tangy at the same time? Then you need to try this recipe for luqaimat with cream cheese. These bite-sized, golden-brown treats are filled with a creamy cheese filling and topped with chopped walnuts and chestnuts for a crunchy twist.
The dough is made with leavened yeast and fried in vegetable oil, giving it a crispy outer shell and a tender, fluffy interior. The mild-tasting cream cheese filling is the perfect complement to the sweet and slightly tangy dough, preventing the dessert from becoming too sweet.
With our easy recipe, you can quickly and easily make these crunchy and creamy dumplings, serving them hot and fresh for an unforgettable Ramadan dessert or snack.
See the luqaimat with cream cheese recipe >
Caramel vermicelli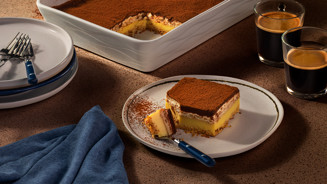 Caramel vermicelli is a caramel-flavoured dessert that will tantalise your taste buds and leave you wanting more. This Middle Eastern delicacy is easy to make and combines the delicious flavours of caramel, cream, and chocolate, resulting in a decadent treat that is perfect for any occasion.
With its gooey and crispy texture, the combination of vermicelli and biscuits provides a delightful contrast to the creamy layers. The chocolate shavings on top add an extra layer of richness and a final flourish to this already indulgent Ramadan dessert.
Impress family and friends after an iftar and treat them to a slice of caramel vermicelli cake, and let their taste buds embark on a flavourful journey that will leave them craving for more!
See the caramel vermicelli recipe >
Basbousa with cream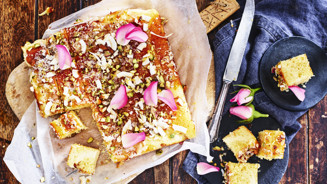 Basbousa with cream is a classic cake made with semolina and shredded coconut, giving it a sweet, nutty, and almost buttery flavour that pairs perfectly with the creamy filling. Topped with coconut, almonds, and pistachios, it is a wonderful, sweet treat that is easy to make and can be served with tea or coffee.
Adding yoghurt to this sweet Ramadan dessert ensures a tender, moist crumb and introduces a bit of freshness to balance out the sweetness, allowing the nutty flavour and shredded coconut to shine through. Serve this delicious dessert for iftar – it will be a hit with everyone and make a lovely decorative and enticing display on any dessert table.
See the basbousa with cream recipe >
Halawet al jibn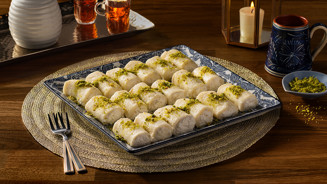 Ready to have your taste buds tickled with our recipe for halawet al jibn? The famous sweet cheese rolls are made with cream and semolina dough and garnished with pistachios and orange blossom flowers.
This elegant Ramadan dessert is a perfect blend of soft textures and classic flavours, with the richness of the thick cream perfectly complementing the burst of flavours from orange blossom water, mozzarella cheese, and pistachios.
The sweet, sticky syrup infused with orange blossom water adds a fragrant flavour that goes perfectly with the mild, slightly tangy mozzarella dough, and the crunchy pistachios on top give it a beautiful look. Make this delicate treat for Ramadan – you will not be sorry!
See the halawet bin jibn recipe >
Enjoy these sweets desserts for iftar
When it comes to the holy month, serving classic, sweet Ramadan desserts play an important role in the iftar meal. And while it is tempting to dive straight into the sweets, starting the meal with something savoury, such as soup or a light main course is often preferred. Luckily, we have lots of Ramadan soups in stock to inspire you as well as, for example, these easy iftar recipes for Ramadan.
Once you have had your main meal, it is time to indulge in a delicious Ramadan dessert. But what kind of dessert should you choose? Well, it depends on what time of night it is and how you are feeling. If it is early in the evening and you are still feeling full from iftar, a light and refreshing, maybe fruity, Ramadan dessert might be just what you need and as the night goes on and your sweet tooth kicks in, you might want to try something more indulgent.
While Ramadan desserts are enjoyed during iftar, you can also incorporate a bit of sweetness into your suhoor meal. For example, go for fruit, yoghurt, and oatmeal-based treats. Take a look at our quick and easy suhoor ideas for Ramadan to get more inspiration.
More Ramadan themes