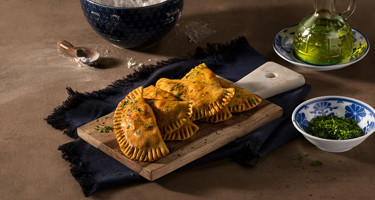 Since it is a tradition to break the fast with sweet dates as well as a selection of savoury Ramadan appetisers and snacks, we want to inspire your cooking with these simple snack recipes for Ramadan. Snacks and appetizers are an important and integral part of iftar, adding variety in both flavours and textures as well as making the festive iftar table look even more tasty, attractive, and colourful.
Our snack recipes for Ramadan take less than an hour to make and do not require you to spend a long time preparing them. This leaves you with plenty of time to focus on spending time with the family, whom you can probably persuade to help cook some of these easy, tasty treats.
Savoury, quick and easy iftar ideas
Many Ramadan starter recipes focus on snacks made with different kinds of pastries like phyllo dough, paratha pastry, and puff pastry. Many are fried to create a crispy and flaky exterior to contrast and balance the savoury filling hiding just inside. The savoury filling of our Ramadan appetizers and snacks is made with different spices, cheeses, vegetables, herbs, and meats. Favourites include chicken, beef, and lamb paired with cheeses like mozzarella, feta, and cheddar cheese.
Since many classic Ramadan appetizers like borek, sambousek, and mutabbaq may be prepared with a vast array of different fillings, these dishes allow for a lot of kitchen creativity. Include the entire family in the cooking process to create the very best snacks for Ramadan. Together you can also experiment with making different dips and sauces with labneh and yoghurt to serve alongside your selected snacks and appetizers.
Since many Ramadan appetizers are somewhat salty, you could serve them with your drink of choice on the side, whether that is regular water, coconut water, fresh fruit juice, warm tea, or traditional iftar drinks like jallab, qamar al-Din, or kharoub.
Cheese borek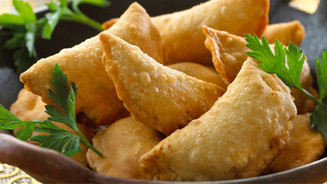 Among quick Ramadan snacks, cheese borek is a true classic. This staple in Middle Eastern cuisine has a homemade, golden-brown pastry dough filled with salty and tangy feta mixed with parsley. The fresh herbs brighten the rich filling and enhance the cheese's flavour to create a tasty treat that tickles the tastebuds.
The crispy pastry gives the borek a great crunch that makes it well worth including in your selection of Ramadan appetizers and snacks. The half-moon shape of the snack is sure to look appealing on your iftar table and it is an easy grab-and-go size when you have a lot of guests wanting a bite of everything.
Cheese sambousek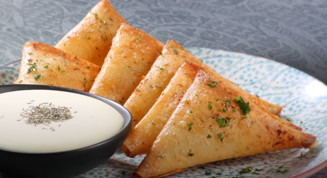 No list of great Ramadan snack ideas is complete without cheese sambousek! These flaky phyllo pastry packets make for an incredible addition to your chosen Ramadan appetizers and snacks. They have a soft and savoury cheese filling made with velvety cream cheese and crumbly halloumi.
This rich, herbaceous filling is flavoured with fennel seeds, ground mint, and fresh parsley for a cool, yet peppery and citrussy, flavour. If you fry your cheese sambousek to golden perfection right before you serve them, the filling will be warm and gooey, creating a wonderful contrast to the crispy exterior.
See the cheese sambousek recipe >
Stuffed baked potato with mushroom sauce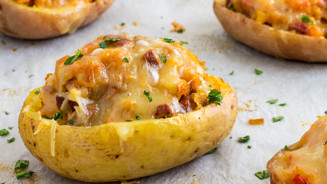 Beginning iftar with delicious Ramadan appetizers after a long day of fasting is wonderful and our stuffed baked potato with turkey and mushroom sauce is the perfect choice. The combination of the potatoes' crispy skin and soft, savoury filling is mouth-wateringly delicious.
Made with potato, salty turkey bacon, and nutty-tasting cheddar cheese, the filling is well-balanced and incredibly tasty. Creamy, umami-packed mushroom sauce is poured on top to tie it all together, making this one of our favourite Ramadan appetizers.
See the stuffed baked potato recipe >
Mutabbaq with meat and cheese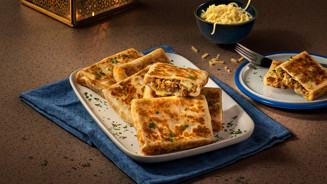 Another easy Ramadan snack is cheesy mutabbaq with beef. With a crispy paratha pastry encasing a savoury beef filling with onion, tomato, green bell pepper, and leeks - and these treats together make for great Ramadan appetizers or snacks.
Seasoned with cinnamon and cumin, this Middle Eastern classic has plenty of warmth and depth. The mozzarella and cheddar cheese mix that our mutabbaq also contain rounds out the filling's flavour and gives this favourite among Ramadan appetizers a wonderful richness.
See the beef mutabbaq recipe >
Choose the right meals to complete the perfect iftar table
Even though Ramadan appetizers and evening snacks are delicious and a part of the traditions of Ramadan, you, of course, also need more substantial iftar dishes to complete your sunset meal. Good choices include different Ramadan soups and iftar salads that will bring joy as you break the fast with your family and loved ones.
Our savoury Ramadan starter ideas as well as the tasty soups and salads can be followed by sweet treats to keep things deliciously balanced. Ramadan desserts are an integral part of iftar for many and our delicious options – some of which are traditional, while others are more modern and find inspiration in cuisines from around the globe – are sure to be a hit with you and nutryours.
More Ramadan themes