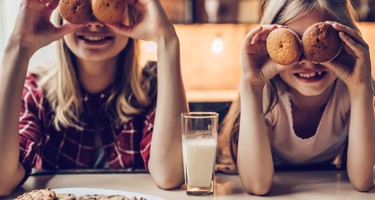 Nothing beats a classic ice-cold glass of milk and homemade cookies combo. Whether you like to dunk it till it's nice and soggy, dip it in quickly or keep it nice and crunchy, the texture, flavour and all-round deliciousness of a freshly baked cookie is doubled when it's drizzled in delicious, creamy milk.
We've put together a few of our favourite cookie recipes for the dippers, dunkers and cookie drowners out there so you can whip up the ultimate milk and cookies anytime at home.
Sandwich cookies
Dunk performance rating: 9/10 Hailed as the original milk companion, the biscuit/cream/biscuit consistency of a classic sandwich cookie is just dreamy when it's drenched in cold milk. The soft, gooey and creamy texture melts in your mouth for a taste sensation like no other. Here's how to bake your own to perfection.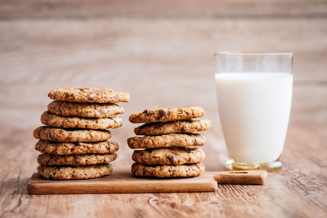 INGREDIENTS:
280g light soft brown sugar
225g granulated sugar
250g butter
300g salted butter
600g icing sugar
2 large eggs
1 tbsp vanilla extract
450g plain flour
2 tsp baking powder
300g milk chocolate chopped into small chunks
METHOD:
Using a large bowl, beat the sugar and butter together until smooth and creamy. Either use a wooden spoon or a handheld whisk for a super smooth consistency.
Crack in the eggs one at a time and mix in slowly, then add the vanilla extract.
Use a sieve to slowly sift in the flour and baking powder while mixing in with a wooden spoon.
Pour in the chocolate chunks and stir. Then, use your hands to mould the dough together into one large lump.
Split the dough down the middle to create two large, sausage-shaped pieces and wrap in clingfilm.
Pop into the fridge overnight.
Pre-heat the oven to 180°C.
Take the dough rolls out of the fridge and slice each half into small, cookie-shaped chunks.
Line a baking tray with a piece of baking paper and lay out the cookies.
Bake for 20 minutes.
Mix together the icing sugar and salted butter in a small bowl to make your buttercream filling for the sandwich cookies.
Allow the cookies to cool before smearing buttercream onto one half of the cookie and adding the other half on the top.
Tip: Use a piping bag to apply the buttercream for professional looking sandwich cookies.
Oatmeal cookies
Dunk performance rating: 7/10, Chewier and less sweet than most other cookies, milk dunking is where the often overlooked oatmeal cookie really comes into its own. Softer than most other cookies, oatmeal cookies mean you can indulge in a few more than usual, guilt free! We say dunk away.
INGREDIENTS
150ml vegetable oil
200g golden caster sugar
1 large egg, beaten
1 tsp ground cinnamon
1 tsp vanilla extract
140g plain flour
¼ tsp bicarbonate of soda
300g oats
METHOD:
Line two baking trays with baking paper
Heat your oven to 180°C
Using a large bowl, mix together the oil and sugar
Break in the egg and stir in both the cinnamon and vanilla
Using a sieve, sift in the flour and bicarbonate of soda into the bowl
Pour in the oats and stir into the mixture, adding a pinch of salt
Once your mixture has a dough like consistency, use your hands to make cookie sized chunks and lay them out on the baking trays.
Leave enough space for the cookies to expand when baking
Pop in the oven for 15 minutes, until golden brown
Tip: Add 100g raisins to the mixture for a sweeter taste.
Chocolate chip cookies
Dunk performance rating: 8/10, Velvety and crunchy on the outside but soft and fluffy on the inside, everyone loves a traditional chocolate chip cookie. Their sugary, chocolatey taste makes them the perfect sweet treat. Check out our recipe below to cook up a storm in the kitchen.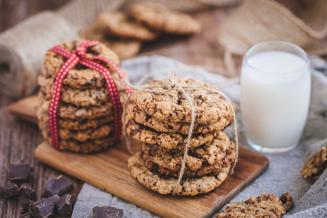 INGREDIENTS:
100g brown sugar
125g unsalted butter
1 egg
1 1/2 tsp vanilla essence
1/2 tsp salt
225g Self Raising Flour
200g chocolate (any kind)
1/2 tsp salt
Method:
Mix together the butter and sugar in a large bowl using a wooden spoon. Pre-heat your oven to 200°C.
Pour in the egg and mix together with the vanilla essence
Use a sieve to slowly mix in the flour and salt. Stir well until the consistency is smooth.
Break up your chocolate into small chunks - uneven sized pieces look the best – then stir into the mixture.
Grab a baking tray and line with a piece of baking paper.
Roll small balls of the mixture together and place on the tray – be sure to leave enough space between each cookie as they will expand as they bake.
Leave your cookies to cool, then enjoy.
Once you've baked your ultimate milk and cookies combination, all that's left to do is head to the fridge to pour a large glass of chilled Arla Cravendale and get dunking!