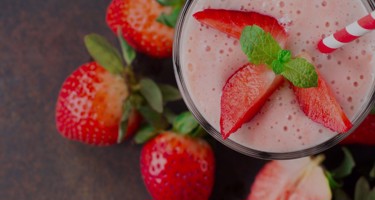 With flavours galore to choose from– and plenty of good stuff coming from the milk too – milkshakes are well and truly marvellous. Blend up a treat with these delicious milkshake recipes including breakfast, party and kid-friendly concoction.
Recipe one: Fill me up breakfast milkshake
Rise and shine with this chocolate and banana milkshake. It's delicious, yes, but with oodles of goodness packed in there too. We've got chocolate for irresistible taste, bananas for vitamins and minerals, and porridge oats for slow-release energy that will keep you full until lunch.
What you'll need
Three scoops of cocoa powder
One frozen banana
Handful of porridge oats
230ml of Arla Cravendale milk
A handful of ice cubes
Method
Pop it all in a blender, blitz it up and get your day off to a great start!
Keep it fresh and exciting
This is just the start of your chocolatey-fruit breakfast combos. You can switch things out, add new stuff in – think of it as milkshake mixology. Here are some of our favourite ideas:
Avocado
Ditch your banana for the oh-so-trendy avocado for a super-silky milkshake with a boat-load of vitamins.
Top tip
Not an avocado fan? It adds silky texture rather than taste - we really recommend giving it a go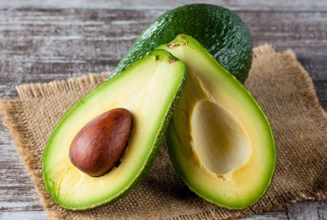 Peanut butter
Add a dollop of crunchy peanut butter before you do the final blitz in the blender and enjoy a nutty milkshake texture sensation.
Strawberries
Chocolate and berries are a match made in heaven. Stock your freezer with frozen berries so you can make a super-refreshing shake with a chocolate tang whenever the desire takes you.
Top tip
If you've got fresh berries in your fridge, use them instead along with a handful of ice cubes to make your milkshake nice and chilled.
Recipe two: It's party time milkshake
Give the classic milkshake a twist with some cocktail inspiration. Having a party? Whip up a batch of virgin piña coladas – perfect for your pregnant friends, designated drivers, and for getting the kids involved. The tropical flavours make us dream of golden Caribbean beaches. This pineapple and coconut mocktail is summer through and through.
What you'll need
150ml pineapple juice
One frozen banana
125ml of Arla Cravendale milk
1 tablespoon of maple syrup
A handful of ice cubes
Method
Pop all your ingredients in a blender and blitz it up.
Go all out with party presentation
Channel your inner Willy Wonka and make your party milkshake into a real showstopper with these presentation tips:
Coconut dipped glass
Add a pop of colour to your mocktail with a sprinkle rim. Simply mix two tablespoons of icing sugar with one teaspoon of water and mix until smooth, dip the rim of your glass in the sugar mixture. Then, dip the rim of your glass in the desiccated coconut - laying some out on a plate is the easiest option. Ta-dah! Coconut galore.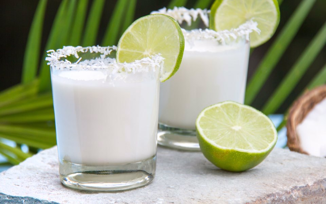 Whipped cream
Top your milkshake with a delicious swirl, as high as you can go, and sprinkle with freshly grated lime zest.
Toppings
Top your tropical creation off with a tasty wedge of pinapple, a sprig of mint, & a pair of juicy cherries for a pop of colour!
Recipe three: One for the kids milkshake
Get the kids involved in the milkshake-making for a guaranteed afternoon of hilarity, followed by a few moments of peace and quiet as they devour their creations. This is the tasty milkshake that's taking your little one's favourite fruit and making in into something even more delicious.
What you'll need
A handful of frozen strawberries
125 ml of Arla Cravendale mikle
1 teaspoon of vanilla extract
1 tablespoon of honey
Method
Pop all your ingredients in a blender and blitz it up.
Make a decoration table
For kids, making food is half the fun. Spread the table with colourful, edible decorations and watch their faces light up with glee – and then let the chaos commence. Here are some milkshake decoration ideas you could try:
Unicorn magic
The bottom of an ice cream cone is the secret here, creating the perfect unicorn horn when stuck into a delicious whip of cream. Shape two marshmallows into ears and top with lashings of edible glitter and rainbow sprinkles. Try this with our unicorn smoothie recipe too.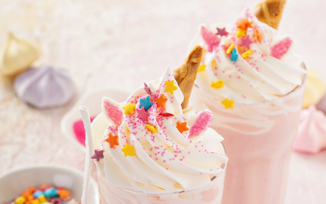 Fruity faces
Blueberry eyes, a tangerine segment mouth and sprinkles for hair –delicious.
Get creative
Pop a triangle of fresh watermelon on a skewer for your unicorn horn. For the ears, add a couple of marshmallows. Cute and tasty.