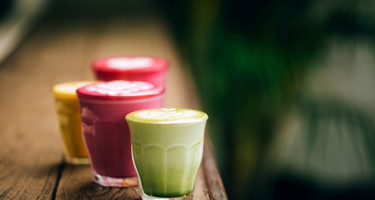 Replace your morning coffee with Arla Cravendale's top five alternative latte recipes. Try tasty caffeine-free alternatives full of healthy goodness.
There's something comforting about a warm drink, whether it's a morning coffee to kickstart your day, or winding down for the night with a brew. But you don't always want the caffeine boost that comes with it.
When you want a warm drink without the espresso, check out these alternative latte recipes. From summer fruits to autumnal spices, these caffeine-free combos will hit the spot.
Turmeric Ginger Latte
Matcha Green Tea Latte
Autumnal Hot Pumpkin Latte
Beetroot Latte
Red Tea Latte
What you'll need:
A blender
A medium saucepan
Teaspoon
Tablespoon
Your favourite mug or cup
Turmeric ginger latte
Try this get-up-and-go latte recipe which offers the energy boost of a classic coffee, thanks to a fiery blend of turmeric and ginger. These roots are both packed with anti-inflammatory properties, meaning this beverage is not only delicious, but super healthy too.
Method:
Put a teaspoon each of chopped and peeled turmeric and ginger into a blender, and blend with a sprinkle of salt and two teaspoons of coconut oil.
Meanwhile, gently heat your semi skimmed Arla Cravendale over a medium heat until it's just simmering.
Add your warm milk into the blender and whizz it all together until the mixture turns into tasty frothy goodness.
Pour into your favourite mug and top with a touch of black pepper.
Enjoy!
Tip: If you want to make things a little sweeter, switch out the black pepper for a dash of cinnamon and turn your latte into the perfect winter warmer.
Matcha green tea latte
This rejuvenating latte recipe is full of antioxidants which can help heart health and, tastes downright delicious. Green tea does contain a little caffeine, but it's nowhere near the amount you'd find in your usual latte. Enjoy your Matcha green tea latte warm or throw in a few ice cubes for a refreshing drink to enjoy in the sun.
Method:
Put one tablespoon of Matcha green tea powder and two tablespoons of plain sugar into a mug.
Add a splash of warm water and combine the mixture into a paste with your spoon.
Warm your semi skimmed Arla Cravendale over a medium heat until simmering.
Pour the warm milk into your cup and stir until the paste and milk have combined into a light green liquid.
Enjoy all the revitalising goodness!
Tip: If you want an iced latte, switch out the warm milk for some straight from the fridge and throw a few ice cubes in after you've blended your milk and paste together.
Autumnal hot pumpkin latte
Who doesn't love pumpkin spice? Nothing says warm and cosy quite like the tastes of cinnamon and nutmeg. Create your own tasty caffeine-free alternative to this autumnal coffee with this super simple latte recipe.
Method:
Whiz your semi skimmed Arla Cravendale, a tablespoon of pumpkin puree and a tablespoon of pumpkin spice mix in a blender.
Bring the mixture to the boil in a saucepan before allowing to simmer for five minutes until smooth.
Blend the mixture together again with three tablespoons of maple syrup.
Pour the mixture into your mug and top with a sprinkle of cinnamon and nutmeg.
Get cosy with a good book and your Autumnal hot pumpkin latte.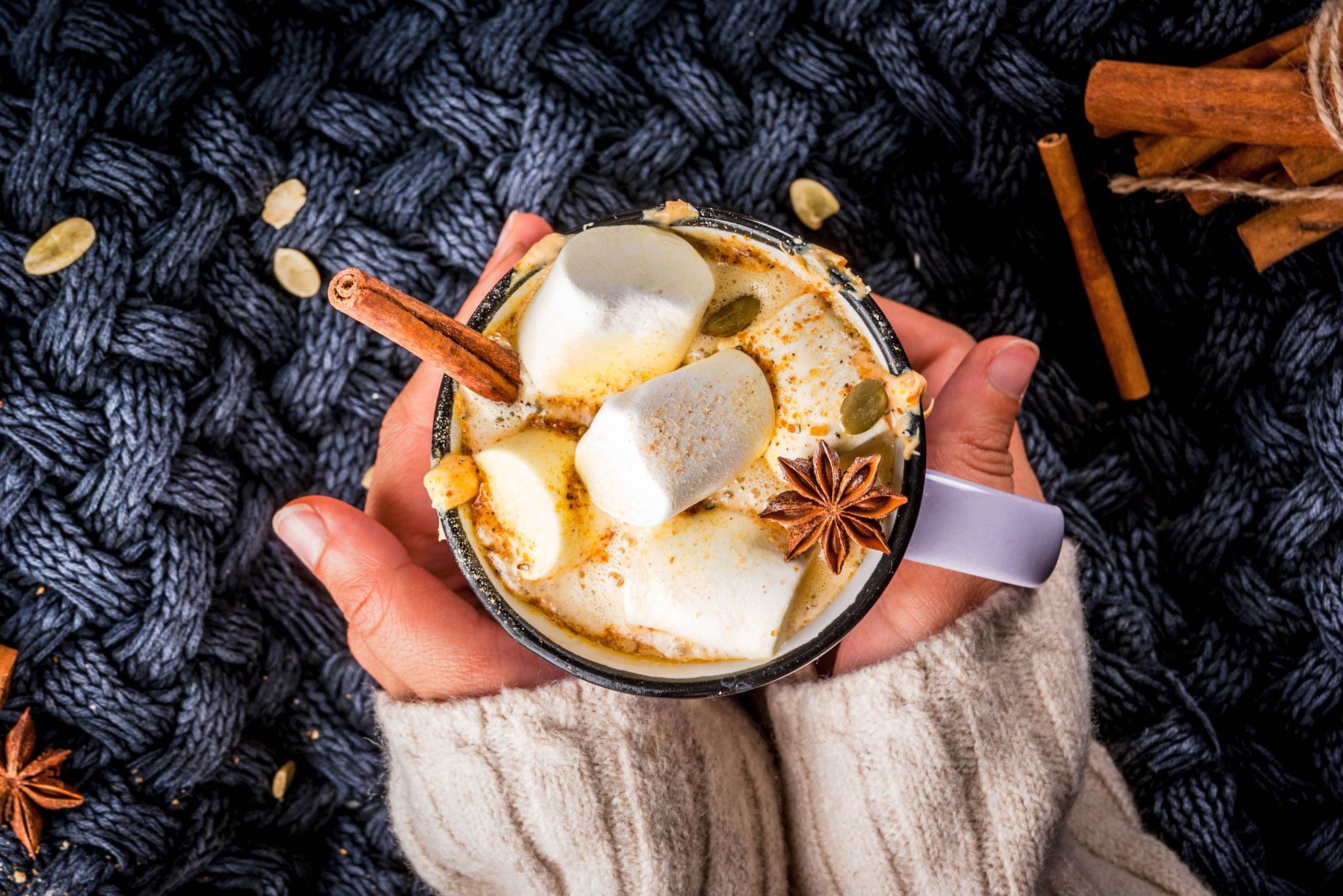 Beetroot latte
Think of latte recipes, and beetroot probably isn't the first thing that springs to mind. However, this colourful coffee substitute is packed full of flavour and helps to regulate your blood pressure too. Follow these easy steps for beetroot-based goodness.
Method:
Warm semi skimmed Arla Cravendale and a dash of honey in a pan until simmering.
Pour milk into a mug and top with beetroot juice, give it all a quick stir.
Sprinkle with cinnamon and a little nutmeg.
Enjoy this refreshing and healthy drink with your breakfast.
Tip: For added flavour, a splash of orange juice is a perfect partner for those earthy beetroot flavours – and is vitamin-rich too.
Red tea latte
This African-infused coffee substitute has a whole lot going for it. It tastes rich and earthy, it's brimming with immune-boosting antioxidants and it's super easy to create too. Made from Rooibos, or red bush tea, it's a sweet drink that is perfect for winding down after a busy day. Top it all off with some warming spices for a mild kick.
Method:
Brew your Rooibos tea using hot water.
Meanwhile, simmer your semi skimmed Arla Cravendale milk on a medium heat.
Combine in a blender, remembering to take out the Rooibos tea bag first.
Top with a sprinkle of cinnamon, or a little cayenne pepper for a more savoury option.
Sit back and sip!