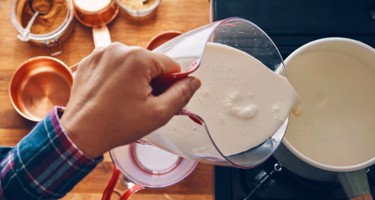 Cocktails don't need alcohol to be delicious, especially not this cool and creamy bunch. Put the booze back on the shelf – we've put together a few crowd-pleasing recipes so you can make delicious drinks at home – hangover free.
Virgin White Russian
Eggnog
Black Forest Mocktail
Summer Berry Bliss
Virgin White Russian
Top of the list is a White Russian. Simple, but packing a punch, it's a cocktail with milk that grew in popularity during the 90s, when Jeff Bridges made the drink iconic with the release of The Big Lebowski.
A White Russian on the rocks is the perfect drink for anyone who wants something both cool and delicious – and it tastes all the sweeter without the headache in the morning.
What you'll need:
50ml alcohol-free coffee liqueur
1 tbsp of cream
A handful of ice
Method
Fill a tumbler glass with the ice.
Pour over the alcohol-free coffee liqueur.
Top with the Arla Cravendale milk.
Finish with a tablespoon of cream for added luxury and start sipping!
Tip: Pour the milk gently over the back of the spoon to get that trademark white Russian look.
Eggnog
Typically saved for the festivities of Christmas, a creamy eggnog can be enjoyed alcohol free throughout the year. It takes a little preparation, but it's well worth it.
What you'll need:
6 medium eggs (separated)
150g golden caster sugar
400ml double cream
Freshly grated nutmeg
Method
Whisk the egg yolks into a bowl with 100g of caster sugar. Keep whisking until you have a thick, pale yellow mixture.
Stir in the Cravendale milk, add the double cream and sprinkle in the grated nutmeg.
Whip your egg whites in a glass or metal bowl with a handheld electric mixer, or classic whisk, until foamed up.
Add the remaining 50g of your sugar, whisking it with your egg whites until you have soft peaks.
Fold in the egg whites. Once they are combined, use a ladle to spoon the eggnog into glass tumblers.
Add some extra grated nutmeg for the finishing touch and enjoy.
Black Forest Mocktail
Creamy, fruity and delicious, this indulgent black forest mocktail is the perfect winter time treat. Quick and easy to make, it's sure to be popular with the designated drivers and pregnant friends at your Christmas celebrations.
What you'll need:
3 handfuls of frozen black forest fruits
4 strawberries
juice of 1 lime
2 handfuls of ice
Method
Chop up your strawberries into small pieces.
Put the frozen forest fruits, strawberries and ice together into a blender.
Pour in the chilled Cravendale, add the lime juice and blend until smooth and creamy.
Prepare tall cocktail glasses with a couple of ice cubes.
Pour in the mixture and then finish off by garnishing the glass with a few left over berries.
Summer Berry Bliss Milktini
Fruity like a smoothie but with the silky texture of a swish martini, this refreshing mocktail is sure to go down a treat with friends and family in the summer months.
What you'll need:
A handful of ice
1 teaspoon raspberry syrup
A handful of frozen berries
Vanilla extract
A handful of white chocolate shavings
Method
Pop a generous handful of ice into a cocktail shaker.
Blend together frozen berries and delicious chilled Arla Cravendale, then pour the smooth mixture into a cocktail shaker.
Add in the raspberry syrup and a drop of vanilla extract, then shake it up.
Pour your fruity concoction into a martini glass and garnish with a few white chocolate shavings. Voila, you've got yourself a masterpiece.
Feeling inspired? For more exciting recipes, check out the Arla Cravendale recipe hub.