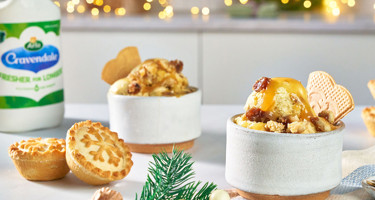 As well as stocking up on long-lasting Cravendale milk to see you through the busy festive season, we're bringing you some of our best Christmas tips to make your shopping go a little bit further this year and reduce your food waste.
Make friends with your leftovers
Cooked veg can be left in an airtight container in the fridge for up to 3 to 4 days, just make sure the veg is refrigerated within 1-2 hours of cooking. Add the veg to pies, mash, or use them to make fritters for a healthy and nutritious way to eat up your leftovers.
Leftover cooked turkey can be consumed for up to 3 days after cooking. Simply shred the meat from the bone once cooked and place leftovers in an airtight container in the fridge within 2 hours of cooking it. When you're ready to reheat, make sure the meat is cooked until piping hot all the way through, ideally reaching a temperature of 70ºC for about 2 minutes.
You can make an incredible stock with the leftover turkey carcass to use in warming soups and delicious gravy. Simply put the bones and any chopped veg, such as carrots, onions, and celery, in a stock pot with a bay leaf, salt and pepper and thyme. Add water and bring it to a boil, then turn it down to a simmer for around 3 hours, scooping off any froth that rises to the top. Strain the slightly cooled stock into an airtight container and keep it in the fridge for up to 3 days or in the freezer for up to a month.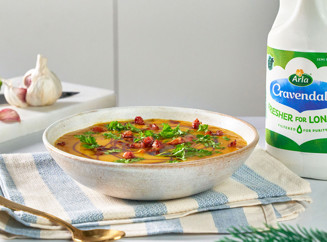 For more useful food waste tips head over to Food Waste
Make a comforting hodgepodge pie
Buy puffed pastry and use up all your odds and ends in this Christmas leftovers hodgepodge pie.
For the creamy sauce, you'll need:
25g salted butter
1 large onion, diced
1 stick celery or leek, finely chopped
1 bay leaf
100g plain flour
1 litre whole Arla Cravendale Milk
1 tbsp Dijon mustard
Pinch of salt and pepper
For the filling:
200g leftover shredded cooked turkey or whatever meat you have
50g cooked bacon, roughly chopped
100g cooked stuffing, roughly chopped
100g roast potatoes
100g leftover veg, such as carrots, parsnips, sprouts, roughly chopped
For the topping:
320g ready rolled puff pastry sheet
1 medium free-range egg, beaten, or a splash of milk to glaze
Optional:
A handful of breadcrumbs, a grating of hard cheese, and a pinch of dried herbs, such as thyme or sage.
First off, preheat your oven to 200ºC/180ºC fan/gas mark 6. While that's heating up, take your pastry out of the fridge to soften it slightly before rolling it out between two sheets of baking paper. Then, put it back in the fridge laid flat while you make the tasty filling.
Melt the butter in a large frying pan over a medium heat before adding the onion, celery or leek, bay leaf, and a pinch of salt and pepper. Fry for a few minutes until the veg begins to soften.
Next, add the flour and mix well so that it coats all the veg.
Stir in the mustard, pour in half the milk and bring to a simmer, whisking constantly until the sauce thickens.
Once thickened, take the pan off the heat, and whisk in the remaining milk.
Add the turkey, bacon, potatoes and veg into the creamy sauce and give it all a good mix before pouring it into a large roasting tray.
Take your pastry out of the fridge and place it over the top of the roasting tray. You might need to roll it out a little more if it doesn't quite fit.
Use a fork to crimp the edges of the pastry to help seal it, and then prick small holes in the top of the pastry to allow the steam to escape as it cooks.
Brush the top with the beaten egg or splash of milk, and add any toppings you fancy, such as a handful of breadcrumbs mixed with parmesan and dried herbs for a crunchy coating.
Bake in the oven for 20-25 minutes until golden.
And there you have it, a hearty mixture of delicious Christmas leftovers in a comforting puff pastry pie.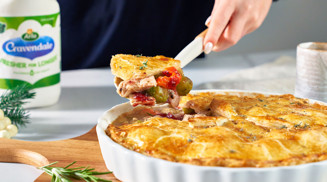 Whip up a batch of mince pie ice cream
Instead of throwing your dried-out mince pies in the bin, transform them into smooth, scrumptious ice cream. The best part? You don't need a fancy ice cream maker!
Option 1: Buy a tub of vanilla ice cream and leave it out of the freezer until it goes soft, then mix in some crumbled mince pie before putting it back in the freezer to set. It's as easy as that.
Option 2: To have a go at making your own one-litre tub of ice cream, all you need is:
300ml double cream, or you can substitute with Arla LactoFree Cream if needed
150 ml sweetened condensed milk, or you can use canned cream of coconut as an alternative
4 x broken-up leftover mince pies
100g mincemeat
1 tsp vanilla paste
Optional: ½ tsp of mixed festive spices, such as cinnamon, nutmeg, or allspice
Optional (for the topping): a sprinkling of crushed nuts
Pour the cream into a large mixing bowl and use a hand mixer or stand mixer to whip the cream until you get soft peaks.
Gently fold in the condensed milk or cream of coconut, then crumble in the mince pies, stir in the mincemeat and add the vanilla and spices, if using. Pour the mixture into an airtight container and pop it into the freezer to set overnight.
When you're ready to serve, top your scoops with anything you like – we think crushed nuts add the perfect crunch. This super tasty ice cream will keep for up to 3 months in the freezer – if it lasts that long!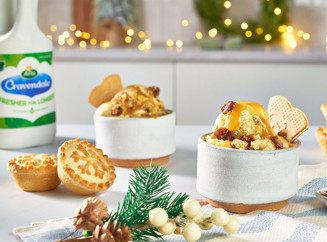 Rustle up a festive bubble and squeak
This is the perfect meal to throw together for a quick brunch or easy dinner - and it uses up all your yummy leftovers!
For this speedy meal, you'll need:
300g potatoes, peeled and cut into chunks
2 tbsp. butter
1 large onion, chopped
Leftover roast potatoes, sprouts, parsnips, carrots, cabbage, roughly chopped
1 tbsp oil
Pinch of salt and pepper
Optional: Leftover cooked meat, such as bacon
Optional (to serve): fried egg and wilted spinach.
Bring a large pan of salted water to a boil, add your chopped potatoes, and cook for 15 to 20 minutes, until tender.
While they're boiling, add 1 tbsp butter to a large frying pan over a medium heat and add your onions, fry them until soft and translucent.
Once your potatoes are cooked, drain well, and put them back in the pan. Add your leftover veg and meat, if using, to the potatoes, stir in the remaining butter and mash well. Season with salt and pepper.
Add a splash of oil to the frying pan and spoon in the veg and potato mixture, gently pressing it down with a spatula until it forms a patty, filling the entire base of the pan.
Fry until golden and then carefully flip over until both sides are deliciously crisp.
Serve with a fried egg and wilted spinach for a quick and easy, full-of-goodness leftover meal.