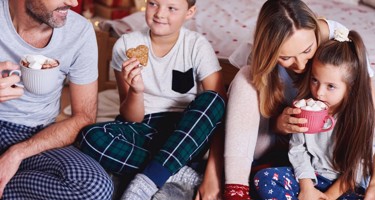 From winter warmers to spiced goodness, enjoy the taste of hot chocolate no matter the weather with these tasty hot chocolate recipes from Arla Cravendale.
Steaming mugs, indulgent gulps and the inevitable whipped cream moustache. You just can't beat the velvet-smooth joy of hot chocolate. It might be a winter classic, but we think you should enjoy chocolate indulgence all year round – and with just a few twists to the standard recipe, you can. Enjoy hot chocolate whatever the weather, with these delicious recipes from Arla Cravendale.
Healthy(ish) hot chocolate
Camping hot chocolate
Gingerbread hot chocolate
Christmas treat hot chocolate
Healthy(ish) hot chocolate
Give your taste buds a treat in spring with our delicious, healthy(ish) hot chocolate. Small swaps, like using skimmed milk and unsweetened cocoa powder, help to keep the calories and sugar levels under control – and a handful of dates add a boost of extra goodness.
What you'll need (per serving):
Method:
Pour 250ml of skimmed milk into a saucepan.
Add two scoops of unsweetened, dark chocolate cocoa powder to the milk.
Add a handful of pitted dates for natural sweetness to balance out the cocoa.
Mix it all together over a gentle heat.
Add a drop of vanilla extract into the steaming mix.
Pour into a mug – and wholesome, chocolatey heaven is served.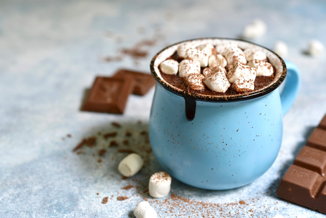 Camping hot chocolate
Hot chocolate is the perfect evening treat to enjoy under the stars – hands clasped tightly around warm mugs as the cool night chill starts to creep in. Plus, it's easy to make without a plug socket in sight. Prepare your hot chocolate mix at home and then whip up a delicious mug of camping hot chocolate around the fire – topped with squirty cream and followed by melting s'mores.
What you'll need (per serving):
250ml of Cravendale whole milk
Two scoops of cocoa powder
One spoonful of sugar
A dash of salt
A swirl of whipped cream
A handful of marshmallows
Method:
Before you leave home, mix the cocoa powder, sugar and a dash of salt and store in a Tupperware box. Scale up the measurements so all the family can enjoy a chocolatey campfire treat.
Keep your milk in a cool storage bag, and then fill up a camp coffee pot and heat gently on the stove.
Pour the steaming milk into a mug and add a few spoonfuls of your hot chocolate mix, slowly stirring for perfect frothiness.
Top with a whip of squirty cream and plenty of marshmallows for the ultimate feast – and then get the s'mores going.
*Top tip: to make easy s'mores, bring chocolate chip cookies and marshmallows with you. Toast the marshmallow on the campfire, then sandwich between two cookies and tuck in.
Gingerbread hot chocolate
As the leaves begin to fall, add some more warmth to your regular hot chocolate recipe with gingerbread. The autumnal spices and velvety hot chocolate transport you to a world of crackling fires and cosy blankets. If you're having friends over, go the extra mile and bake some gingerbread people to float on top of each mug.
What you'll need (per serving):
230ml of Arla Cravendale whole milk
Two scoops of cocoa powder
One spoonful of brown sugar
½ teaspoon of ground ginger
½ teaspoon of cinnamon
A swirl of whipped cream
One cinnamon stick (one is plenty for a crowd)
Method:
Mix the milk, cocoa powder, brown sugar, ginger and cinnamon in a saucepan.
Heat gently (without boiling) until the brown sugar has completely dissolved
Pour into mugs, and top with whipped cream, a sprinkle of cocoa powder and a cinnamon stick for stirring.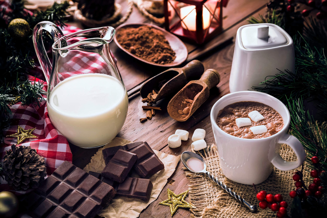 Festive peppermint hot chocolate
Get festive with this hot chocolate on a chilly winter's evening. It's all the indulgence of classic hot chocolate, with a minty treat, provided by seasonal candy canes. Take a break from wrapping the presents and kick back with a steaming mug in hand. Merry Christmas indeed.
What you'll need (per serving):
Method:
Heat the milk and chocolate together until the chocolate is completely melted.
Take off the heat and stir in the cream.
Pour into your favourite festive mug.
Hang a candy cane on the side – it will melt into the chocolate, giving a minty tang!
Add these treats to your recipe collection and enjoy chocolatey goodness all year round. Find more recipe inspiration at the Arla Cravendale recipe hub.