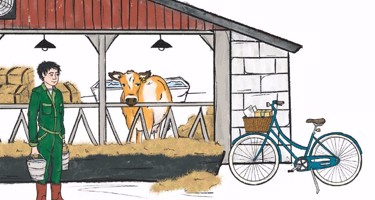 Read more about Johnny & Jelly
We all know that milk is full of nutrients that play important roles in maintaining our bodies, which is why everyone at Arla, including our farmer owners, are passionate about helping people understand our food and what to eat to have a healthy and balanced lifestyle. We're also quite passionate about teaching children (and grown-ups) about farming and how milk gets from the farm to your fridge. We believe understanding this enables you to make good food choices throughout your life.
Research shows that British parents are understandably unsure of exactly what makes up a healthy diet and lifestyle for their children and one in ten believe they don't get enough dairy. We've put together some delightful tales keeping Key Stage 1 and 2 children in mind that are free to download and will help parents to inspire their young kids to learn more about their food and what happens on a dairy farm.
Jonny and Jelly
Meet Jelly the inquisitive cow and her farmer, Jonny, and follow them on their adventure around the farm. Jelly wants to know more about what goes on in the everyday life of a dairy farm, and we get to go along too. We'll discover more about how Jonny the farmer collects the milk from his cows and the journey it goes on to get from his farm to your fridge, including some of the exciting things that Jelly sees along the way.
Our research shows that 1 in 5 school children don't understand where food, including milk, comes from, so to address this we've made some special storybooks about the life of a real dairy farmer and his cow. It provides a fun and engaging way to introduce them to how dairy farming works, and the actions our farmers are taking to create a more sustainable future.
Loaded with information about why nutrition is so important, children are immersed into Jelly's inquisitive nature as they discover more on her adventures. The book even features handy information including exactly what's in a glass of milk, coupled with fun family friendly recipes to try at home.
You can also listen to Jonny and Jelly on Spotify – join them on their exciting farm adventures with our new children's audiobook, available now for free!
Magic Breakfast
As part of our commitment to supporting children's understanding and access to dairy nutrition we will provide 15,000 healthy breakfasts to help feed vulnerable children in the UK. For every download of the book Arla will donate to Magic Breakfast, our charity partner whose aim is to ensure that no child is too hungry to learn.
To find out more about the research, click here
To read our Terms and Conditions, click here
Download the book for free
Download your free school children's story book here. Every download helps us support Magic Breakfast and ensure no child has to start the day hungry!