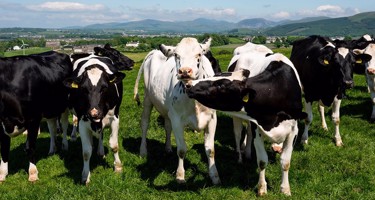 One of the greatest challenges we face, is providing natural, nutritious food for a growing population, whilst reducing our collective environmental impact on the world around us. At Arla, we're owned by the same dairy farmers that supply the milk, so every step we take, from farm to fridge, is focused on one ambition, to leave the farms, the food and the world around us in even better shape for the next generation.
As Arla's family-run farms have passed from one generation to the next, our farmer owners have been working for decades to produce dairy that is affordable for all, rich in nutrition and made in the most planet friendly way possible. We're not perfect, and there's still lots more to do, but as a European cooperative we manage 50% more milk now than in 2005, but have reduced our total Co2 emissions from processing, transport and packaging by 24% . Data from Arla and The Food and Agriculture Organization of the United Nations shows we already produce milk with around half the emissions of the global average and we're aiming to be carbon net zero across our cooperative by 2050.
We believe in balance. We know, that every single action can have unintended consequences for other parts of the environment which is why our ongoing journey for sustainable dairy covers everything we do, from caring for the cows and their calves and nurturing nature, to the way we make, package and deliver products. Our environmental targets and goals are based in science and we work with scientists as well as environmental and wildlife experts to continue to produce dairy that is as good for people and the planet as it possibly can be.