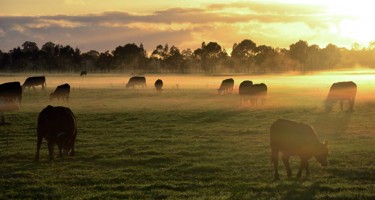 As the world becomes more and more aware of its impact on the environment and the need to act now, every industry is looking at ways to become greener and more sustainable.
The farming and agriculture industry is no different, and farms and businesses across the UK are changing the way they grow, rear and produce food to better protect the future of the planet, including our dairy farmers that own Arla.
This is generally referred to as sustainable farming. New ideas, innovations and technology are helping our farmers on their journey to becoming more sustainable and ensuring they leave the land in a better place for the next generation.
What is meant by sustainable farming?
Simply put, sustainable farming is an umbrella term for a number of different agricultural practices that use environmentally friendly methods to carry out their work. These practices reduce the impact of farming work on local ecologies and habitats, and look to reduce energy use and emissions from processing and transporting produce.
When it comes to Arla and our dairy farms, we've been working for many years to be more sustainable through initiatives to reduce our Co2 emissions, use more renewable energy across our operations, and always ensure the happiness and health of our cows.
Our farmers are already well on their way to becoming more sustainable, producing milk with less than half the average emissions compared to global dairy production, and we are committed to continuing to reduce our footprint. Our first phase in this journey is to reduce our total emissions by 30% by 2030. Initiatives such as turning cow pats into renewable energy are just one of the ways we are working to find new solutions
On a daily basis farmers face a balancing act of working hard to protect the environment, care for their animals and keep producing food that is affordable. Some examples of how new agriculture practices are helping to reduce emissions are:
• Recycling – The practice of using animal and plant waste as fertiliser or fuel for transporting goods, as well as recapturing water to use in agricultural processes. For example, we've been developing a system where cow poo can be captured and processed to create a renewable fuel source to produce electricity and power our delivery tankers. Now that's closing the poop loop!
• Technology use – The practice of using technology to drive sustainability in agriculture. An example of this is using GPS-guide machinery to reduce soil damage during the sowing and harvesting of crops . At Arla, our dairy farmers are using technology to improve how slurry fertiliser is spread across to reduce emissions, keep smelly gases in the air to a minimum and keep the countryside smelling sweet.
Frequently Asked Questions
How does farming affect climate change?
There are a number of ways that farming can affect climate change, such as methane emissions from cows, or pollution from trucks transporting goods on the road. We know that farming creates emissions which is why we are working incredibly closely with our farmer owners to support them in reducing their impact. Our Climate Checks programme helps farmers identify the best areas where they can take steps to improve their carbon footprint.
What can farmers do to reduce climate change?
Farmers across the world are already beginning to make changes to the way they work to reduce their impact on the environment and their contribution to global warming. From better soil management and dedicating land to biodiversity to improved water regulation and the use of natural fertiliser, there is a lot that can be done by agricultural businesses to have a positive effect on their local and global environment.
In this BBC article, five global world leaders give their ideas for better and more environmentally conscious agricultural practices that farmers can begin to adopt.
How can we all reduce climate change?
While farms and businesses have a big part to play when it comes to tackling climate change, individuals can also play their own role in reducing our global greenhouse gas emissions. This can be as simple as:
• Sorting and recycling household waste
• Reducing car use and choosing public transport or greener transport instead
• Buying responsibly manufactured items such as food with recyclable packaging
• Reducing food waste as this contributes to greenhouse gases Reducing water waste by turning off taps and having shorter showers.
Those are just some small examples, but they all contribute to a healthier and greener planet and environment.