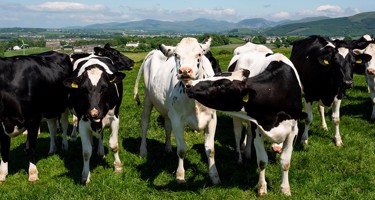 Once we collect the milk from the farms of our 2,400 UK farmer owners, we take it to our production sites. We have 10 in the UK from Taw Valley in Devon to Lockerbie in Scotland. At these sites we make all kinds of dairy, both for the Arla brand and for many of the leading supermarkets, coffee chains, restaurants and foodservice companies. We then deliver the products, either direct to our business customers, or to one of our two distribution centres in Hatfield and Leeds.
Our 2,400 UK farmer owners have an average of just 220 cows each, but together we make and deliver a lot of dairy. In fact, at our UK sites, each year we process enough milk to make almost five billion pints the equivalent of filling around 400 Olympic size swimming pools. But of course, that milk also goes into our cheese, butter and the other delicious dairy products we make for shops, restaurants and foodservice companies across the UK.
A bit like in our homes, where we know that switching the lights off, not wasting things like water and reusing products makes a difference, our sites also take steps to reducing their carbon footprint every single day and follow the same principles of reduce, reuse and recycle. To reach our 2050 carbon net zero target, our first step is to have reduced our production and logistics emissions by 30 per cent by 2030.
Reducing our reliance on fossil fuels for energy is a key step. Our ambition is that by the end of 2021 we will have converted to using 100 per cent green electricity across all of our sites. Reducing our reliance also includes the diesel that runs our lorries. We're already experimenting with alternative fuels so that our transport remains as efficient as ever whilst helping us to achieve our 2050 carbon net zero goals.
Rethinking waste and how it can be repurposed is a big focus area for us. Inspired by the ingenuity of our farmer owners, we're great believers in the power of a circular economy, where things are reused and repurposed as much as possible rather than just thrown away. And we have lots of great examples of how we're already doing this;
When we make butter, the water components of the milk are evaporated leaving behind the x and x. We then let the steam cool and collect the water droplets to clean our floors at the site. Effectively, our sites are being cleaned by water that likely started off as moisture in the grass, was eaten by the cow and turned into milk, was heated at site and turned into steam, and was then converted back to water for use in cleaning our sites. We think that's a bit like magic!
We also work in partnership with our customers to consider how we can help each other reuse and repurpose waste. Customers like McDonald's;
And we're committed to ensuring we don't waste food either. Because we don't always know how much cheese, milk and dairy products will be brought into shops each week, we make enough to ensure the shops stay full, and that means sometimes there's too much. When that happens, we deliver many of the extra products to charities like Fareshare, which shares them across the country, providing food to people most in need.
Not forgetting of course, just how amazing and efficient cows are. Whilst our carbon footprint is calculated on the milk and the production process, we don't take into account the many nutritious products that come from the by products of dairy, which in theory would reduce our footprint, but in reality would be far too complicated to calculate. Things like whey, a powdered product with many nutrients that comes from the process of making cheese. Whey is used in Skyr yogurt, protein powder and drinks and many foods we know and love.
Last, but definitely not least, we recycle as much as we can. This is most obvious in the packaging we use, where our milk bottles are already recyclable and we're working hard to make that the case for all our packaging. Up to 40% of the plastic in our milk bottles has already been recycled and is reused.
Already, Arla products made in the UK contain up to 40% of recycled content already. But with concerning reports of plastic being sent abroad instead of being recycled here at home and of vast quantities ending up in our rivers and oceans, we've thought long and hard about whether we should be using plastic at all.