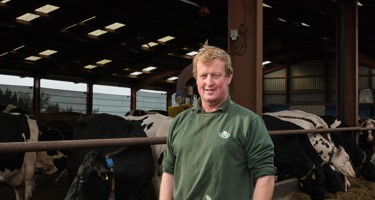 Could British dairy farmers hold the key to heating our homes with renewable energy?
Cow poo. It's something our farmer owners have a lot of. But did you know it can also be used to create renewable energy? Through a process called Anaerobic Digestion (AD), cow poo, along with food that would otherwise go to waste can be turned into power by creating biogas.
Following a trial back in 2020 to test out the potential of powering vehicles with poo, Arla is now putting seven permanent lorries on the road fuelled by biogas. Scaling this up will cut our emissions from our vehicles by 80% and is also a win for our farmers, as a by product of AD is a natural fertiliser, that can reduce on farm emissions.
But are we wasting a bigger opportunity? Figures * show that, with support, nearly 91 million tonnes of manure and slurry and 10 million tonnes of food waste could be turned into enough biomethane to heat 6.4 million homes or run around 3.8 million of the UK's buses and heavy goods vehicles.
However, much more investment would be needed in the anaerobic digestion system to produce this sustainable gas at scale. At the moment Britain is currently only making the most out of a quarter of the 170 million tonnes of organic waste produced in this country each year*.
James Pirie, vice president of UK logistics for Arla explains* "At a time when energy security is a major concern for the Government, businesses, and households across the UK, we're clear about the opportunity presented by waste from farming and the wider food industry. We've shown that poo power is a viable and reliable source of power, so we're calling for the Government to support British farmers and the waste and energy sectors with their plans for investment in infrastructure."*
With the prospect of an unsettled imported energy supply and costs rising significantly for farmers, businesses and families, it would be an incredible waste for the Government not to support this opportunity and invest in a robust, more environmentally friendly approach to homegrown energy.
*Biomethane: The pathway to 2030, ADBA
*Arla Climate Check report 2021
For reference, UK uses 1,994 TWh of energy total per annum, source https://ourworldindata.org/energy/country/united-kingdom#how-much-energy-does-the-country-consume-each-year – part of University of Oxford