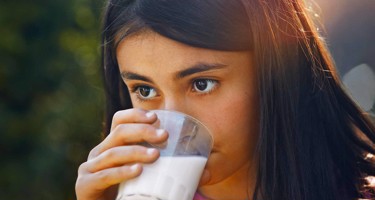 Milk can take on many tasty shapes and forms. Maybe you like it as a snack on the go, or as part of your breakfast ritual, to liven up your coffee break or add to your post workout routine. And before the day ends, you may add it as a twist to an evening meal. A varied, balanced diet and a healthy lifestyle are important at every stage of life, and milk can play a valuable role as a nutrient rich product packed with nutrients and protein.
How much fat is there in milk?
Milk and dairy products are recommended as part of a varied and healthy diet by health authorities across the globe. It is a common misconception that homogenised whole milk is high in fat. In fact, whole milk contains less than 5% fat. Comparatively, semi-skimmed milk has 1.7% fat content, while skimmed milk is 0-0.5% fat.
Is milk bad for your skin?
There is no convincing evidence to show that milk/dairy foods cause acne. Acne is a condition which usually presents during puberty and is believed to be induced by hormones. As the body reaches puberty, testosterone is produced. This may increase the amount of oil in the skin. If there is too much oil, skin pores can become blocked and become infected with bacteria.
Does milk contain artificial ingredients?
We constantly review the contents of all our products and are working consistently to keep them as natural as possible. This means that nearly every product we produce is free of artificial ingredients and additives. However, to maintain the highest possible product quality, sometimes it's difficult to avoid.
What are the benefits of dairy?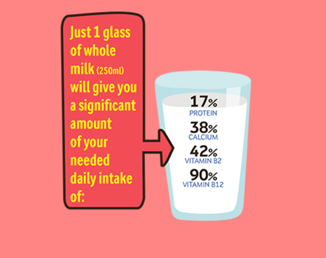 Your body needs calcium for:
• Maintenance of normal bones and teeth
• Normal growth and development of bones in children
Vitamin B12 contributes to:
• Reduction in tiredness and fatigue
• Normal function of the immune system
Vitamin B2 contributes to:
• Reduction of tiredness and fatigue