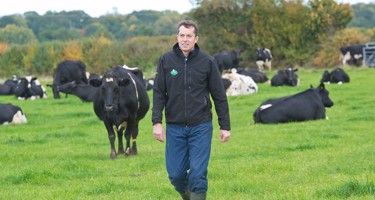 How we are supporting our farmers
"Every day Arla farmers take steps to support and shape Britain's countryside. No one feels the effects of varying weather patterns more than farmers, it has a direct impact on the animals we care for, the food we produce and the money we make. We've taken some big steps at Arla, but we can't take our foot off the pedal. Every business and individual in every walk of life will need to think about their impact on the world in the years to come." - Arla farmer owner - Arthur Fearnall
At Arla we don't do things by halves. Our farmer owners have some of the most stretching environmental and welfare standards in the world. That's because they own the cooperative, and so they set high standards to show how much they care. Working with targets approved by approved by the Science Based Target Initiative and aligned with the Paris Agreement, the first step to reach our carbon net zero targets is to reduce our collective emissions by 30 per cent by 2030, and that includes counting the emissions from the cows and their calves! To start this journey, over 90 per cent of our farmers have undertaken a climate check on their farm. This means they better understand their farms carbon footprint and which areas they should start improving first.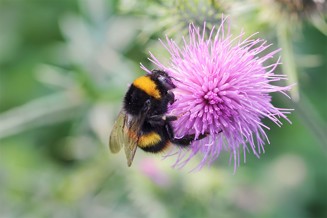 Working in partnership with others
Being a cooperative we know that working together achieves more than working alone. Never is this more true when we think about how we care for our planet. That's why we are working with retailers like Morrisons and Aldi who pay us more for their milk to enable farmers to experiment and trial new technologies and farming practices in our Arla UK 360 programme. This farmer led programme enables us to continue driving efficiencies alongside world class animal welfare standards and cutting-edge sustainability techniques. While every Arla farmer commits to delivering activities on farm that help wildlife and nature, the Arla UK 360 programme helps farmers work out the best way to do this. For example, programmes such as Project Pollinator, which sees our farmers give their land back to nature to ensure our vital pollinators have enough food.
And through our technology trials where, because cows can't tell us if they have a pain or a niggle we are seeing whether cameras and daily body scanning can help us identify if a cow's movement changes. Any changes may suggest they need a little extra attention from the farmer or a vet.
Cows burp… that's life
Our main challenge when pursuing carbon net zero farming is the belches that come from the cows. UK dairy cows alone cannot be blamed for global warming, not least because there are fewer cows in the UK now than ten years ago and each litre of UK milk is made with fewer emissions due to more efficient farming. The truth is we'll never remove the methane emissions from cows and their calves in their entirety, but we are researching how different supplementary foods for cows, may reduce emissions, and we're working with scientists to get a better understanding of just how many emissions dairy farming helps remove from the atmosphere. And, when we've reduced cow and calf emissions as much as we can, we'll be looking to offset the rest.
Arla's farmers do more than care for the cows which provide the milk. 90 per cent of Arla's cows in the UK are grazed on farms where plants, trees and soils all play a role in carbon sequestration which helps to remove carbon dioxide emissions from the atmosphere. We're working with companies and experts from around the world to understand this process better so as to be able to account accurately just how many emissions our farms help to remove through carbon sequestration processes.
Every step counts
It's true to say that with 86 per cent of Arla's emissions coming from on farm activities, our farmers have a huge role to play in meeting our ambition to be carbon net zero across all our operations by 2050. But you'll never meet a bunch of more ambitious, committed and dedicated dairy farmers than the ones who own Arla. So when you buy an Arla product, you can be sure it has been made with the highest possible regard for the cows, their calves and the planet.