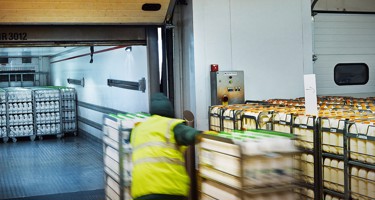 But there are some pretty amazing people in overalls and PPE too
Like everyone else in the country, I have been blown away in the past few weeks by the response of our NHS to the Covid-19 outbreak. Doctors, nurses and other staff going into work every day to deal tirelessly with this frightening, nasty, disease has taken real courage. I am not alone in finding what they are doing truly inspiring.
I have also been deeply impressed by the way that so many other key workers have risen to this completely unprecedented challenge. So many of them have given everything to make sure the lights stay on, the bins are collected, those who need care receive it, and food stays on supermarket shelves and on kitchen tables all across the UK. And amongst this group have been my frontline colleagues at Arla Foods.
In normal times it is all too easy to overlook the people who put food on our plates. We take for granted that our shops will always be full and that we can choose to eat and drink a vast array of nutritious and flavor-filled products anytime we want. What the Covid-19 pandemic is showing us is exactly what it takes, every day, for this to happen.
For foodstuffs to reach the shops takes a little-noticed, hard-working, supply chain extending from farmers in their fields via lorry drivers collecting from farms to workers in processing facilities up and down the land, before another group of lorry drivers brings the finished goods to stores. It is these unsung heroes, the dedicated and talented people in this chain, and everyone who supports them, that I want to celebrate today.
Covid-19 has challenged the supply chain like little else before. It has removed some of the people in it from the frontline as they have been in isolation, whilst at the same time exceptional levels of demand have at times meant that some household goods and many basic foodstuffs, including tins of food, pasta and bread, have temporarily gone missing from the shelves in some stores. Amongst the products affected by soaring demand have been dairy products, particularly cheese, fresh milk and long-life milk.
Yet whilst our supply chain has occasionally bent it has not broken. We are operating at peak capacity in many areas and to do this we have simplified some lines and adapted others. It means our usual wide choice of products has reduced a little for a limited period, which puts us in a better position to supply our vital products in sufficient quantities required to feed everyone. We have delivered record volumes of our products to stores, and we are also making sure where we can that supply to hospitals, care homes and other important locations, including the schools now being used for childcare, remains constant.
We are also proud to be contributing to the Government's "shield" grocery packages which are being sent out to up to 1.5 million people in England identified by the NHS as being at higher risk of severe illness. Our long-life milk will be part of this package for at least 12 weeks or as long as is required.
All of this is thanks to the commitment of our amazing people. I want to pay tribute to them for what they have done so far and what they will continue to do over the coming weeks. What they are doing is, literally, vitally important, not just because food is obviously necessary for people to survive and thrive but also because I believe dairy plays a critical role in a healthy diet and, as the NHS advises on its website, consuming recommended daily allowance of dairy is one of the ways to prepare the body for potential winter illnesses.*
We are of course doing what we can to protect our employees and reduce the potential spread of Covid-19, so some time ago we asked all employees who could work from home to do so. But in food production, not everyone can work from home. Colleagues working in our sites or driving our tankers and our lorries have to come to work, which is why we worked with Ministers and officials in England, Wales and Scotland to ensure that frontline food production staff are recognised as critical or key workers, making sure they receive the right support to enable them to help keep the country fed. I would like to thank Secretary of State George Eustice for recognising the importance of food workers in this situation.
I am humbled by what I have seen from our team, from our retail customers and from many others across the food industry. When Covid-19 abates I hope that we will have a renewed respect for what so many people do, day in and day out, to put food on our plates.