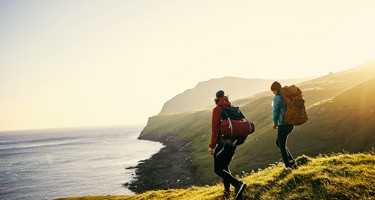 No backpack should be without some flapjack and Kendal mint cake - but what else do you need to take for walking trips? Find out with our top tips.
There's nothing quite like a good walk. Walking is one of the best activities for improving wellness and helping you feel good about yourself, while also allowing you to get out into nature and enjoy being at one with the peace and serenity of the countryside.
However, preparing for any walking trip is a crucial part of the process and can make all the difference between feeling fantastic and being a bit stressed out.
Without the right equipment and supplies to hand, chances are you'll end up cold, wet, miserable and maybe even hungry – far from the walking for wellness you had planned. But with the right planning in place and a bit of expert packing, you'll be comfortable, energised and ready to take on any challenge in the great outdoors.
What and how much you pack will depend on the types of walking you plan to do and where. Trekking across the green expanses of the Yorkshire Dales will require completely different supplies to an adventure up through the stunning peaks of the Scottish Highlands, for example.
To get started, get yourself a durable, waterproof backpack and follow our tips for packing for walking trips to make sure you're as well prepared as you can possibly be.
Follow the rule of three
The rule of three is simple – don't take more than three pieces of the same item, or you risk overpacking and leaving your bags heavy, tiring you out quicker.
It's easy to over-prepare when packing and end up with a bag crammed full of things you're not going to need or use. Always remember, the heavier your bag, the harder it will be to walk over longer distances, so try to lighten the load and make space savings wherever you can.
If you're heading out on a week-long trek as part of your walking fitness plan, then only having three t-shirts, pairs of socks or underwear can seem like a stretch. The solution here – in warm weather at least – is to wear one, wash one that dries when attached to the outside of your backpack and leave the other one clean to change into later.
Save space
Packing as lightly and compactly as possible will make your walking experience more comfortable. There are certain essential and bulky items you can do little about – such as cooking pots and bowls – though you can still try to stack these inside each other to save space.
You can also make the most of the space you have by investing in waterproof jackets that tuck away into their own pockets, as well as telescopic walking sticks and foldable items like water bottles.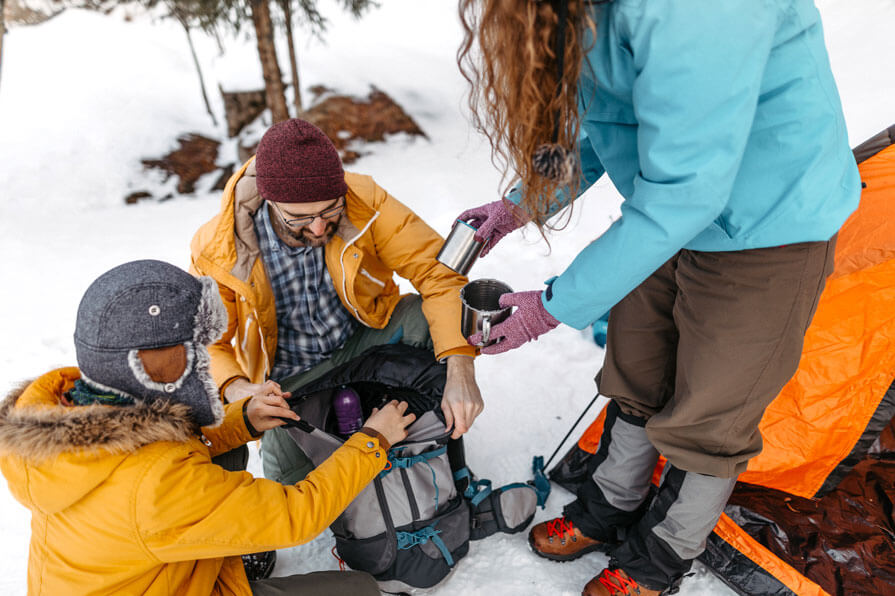 Pack smartly
Whether you're walking for wellness or taking on a mammoth hike as part of a fitness challenge, with any long-distance trek, you'll need to regularly dip in and out of your backpack, whether it's to grab a snack, rehydrate or change your clothing to suit the weather. It's therefore logical that the items you need regularly should be stored near the top or in outside compartments.
At the bottom of your backpack, it's best to have things like your sleeping bag, which you won't need until the evening. When you're carrying fuel for stoves, put these below any food in case of spillage. It's also advisable to keep heavy items as close to your back as possible¹, to make carrying more comfortable and relieve stress on your spine.
What to pack for a walking trip
Once you've got a good idea of how to pack efficiently for your walking trip, it's important to make sure you've got the essentials all planned out. Along with a comfortable pair of walking boots, an up-to-date map and all the basics, here are a few of the essentials to take.
Layers of lightweight clothing
Lightweight clothing can be your friend on walking trips because it:
Takes up less space
Is easier to carry
Dries quicker than jeans, cotton and fleece materials
A lot of modern outdoor clothing brands have introduced lightweight waterproof jackets and trousers that easily fold away into compact bags, while being well insulated to allow you to stay warm more efficiently.
Food storage and utensils
To save space and weight, try to keep the number of food storage containers and utensils in your bag to a minimum. If you're heading out on a lengthy hike, take things that are flexible that you can easily clean to use again – such as just one bowl, mug and a spork. Try to find a super lightweight cooking stove as well, vital for those all-important coffee breaks.
If you're taking perishables, it can also be a good idea to pack a few ice packs or cool blocks to ensure you can keep them fresh for longer, especially if you're taking high-protein snacks you can enjoy on the go like yogurts. Just remember to bring a spoon too if one doesn't come pre-packed.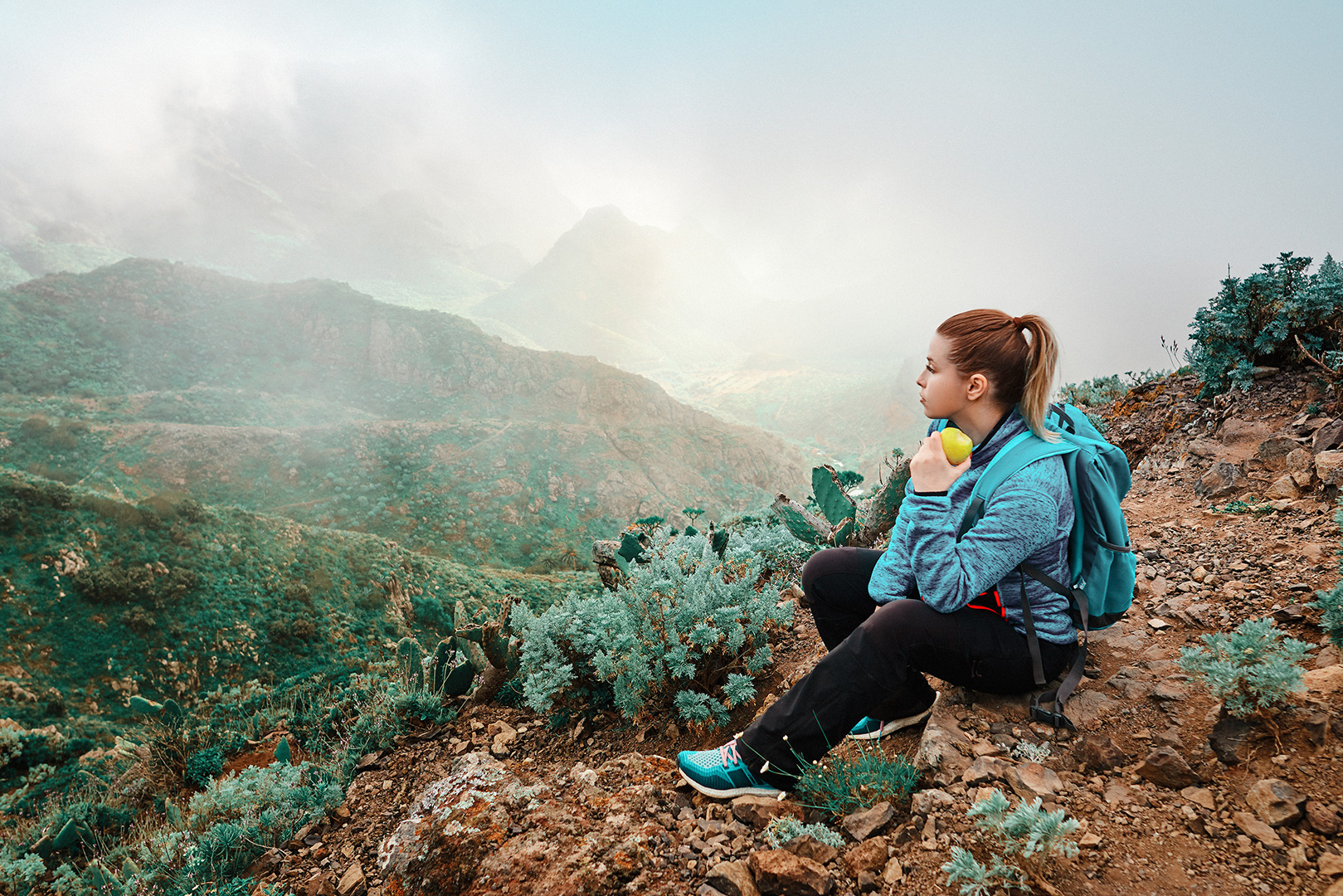 Energy-packed snacks
From cold mountain peaks to flat riverside paths, your body needs plenty of fuel for all types of walking. Staying hydrated is a priority, but you need to keep up your energy levels too. There are various foods good for this, whether you're on a one-day or week-long trek:
Nuts and seeds – Full of fat and protein calories, easy to eat on the go
Granola bars – Made from nuts and oats that are packed with energy
Bananas and apples – A great source of natural sugars and potassium for bananas, why not try taking a dried version as this will be easier to carry
Yogurts – High in protein, yogurts like skyr can be a real energy booster but be sure to try and keep them cool in your pack up.
When you're out walking, remember to always carry a refillable water bottle in your bag. One of the biggest dangers when out walking is dehydration, so it's important to make sure you always have water with you.
First aid kit
Even if the types of walking you'll be doing are fairly steady, there's always the risk of injury from a trip, slip or bump. You don't need a full paramedic's first aid kit, but it's a good idea to come prepared with some supplies in as compact a first aid kit² as possible, including:
Antiseptic wipes
Adhesive bandages/plasters
Triangular sling bandage and safety pins
Antiseptic cream
Painkillers (paracetamol)
Hydration salts
Antihistamine tablets
Distilled water
Water purification tablets
Tools (tweezers, scissors, thermometer, foil blanket, disposable sterile gloves)
Walking trips are a great way to keep fit and stay healthy, but proper preparation is vital. Decide the best time for walking, plan your route and make sure you're properly packed for a fun and fulfilling walking trip that aids wellness, lets you see more of the great outdoors and leaves you feeling fulfilled.
Article References: