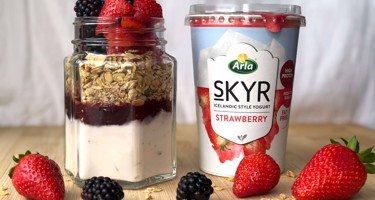 London food blogger, gemtakesfoodpics shares her top tips for a healthy protein rich breakfast. Kickstart your day with Arla Skyr.
Starting every morning with a nutritious breakfast, a smile on my face and a positive attitude is essential to maintaining the wellness of both my body and mind.
I've always enjoyed breakfast, whether it's on weekends or weekdays, as it's a time for me to make sure I'm filling up with the right fuel to set me up for all the challenges of the day ahead. Putting time aside in my busy lifestyle to ensure I have a healthy and nutritious breakfast allows me to set my daily goals and take some deep breaths to relax and think about all the positive things coming my way.
I start every morning with exercise, and I know my body needs to be replenished afterwards, so having a balanced and high-protein breakfast makes me feel nourished.
Quick and sustaining
It's easy to have a delicious breakfast that combines flavour, convenience and nutrition.
During the week, something quick but filling is my go-to. I like to toast a slice of sourdough bread, spread some natural yogurt on top and drizzle with honey and pumpkin seeds. It's the perfect combination of crunchy and tangy, and Arla Skyr is the perfect choice as it not only enhances the flavour, it's both light and full of protein too. This breakfast takes less than five minutes to make, and I can be out the door and ready for my day in no time at all.
Simple, delicious and diverse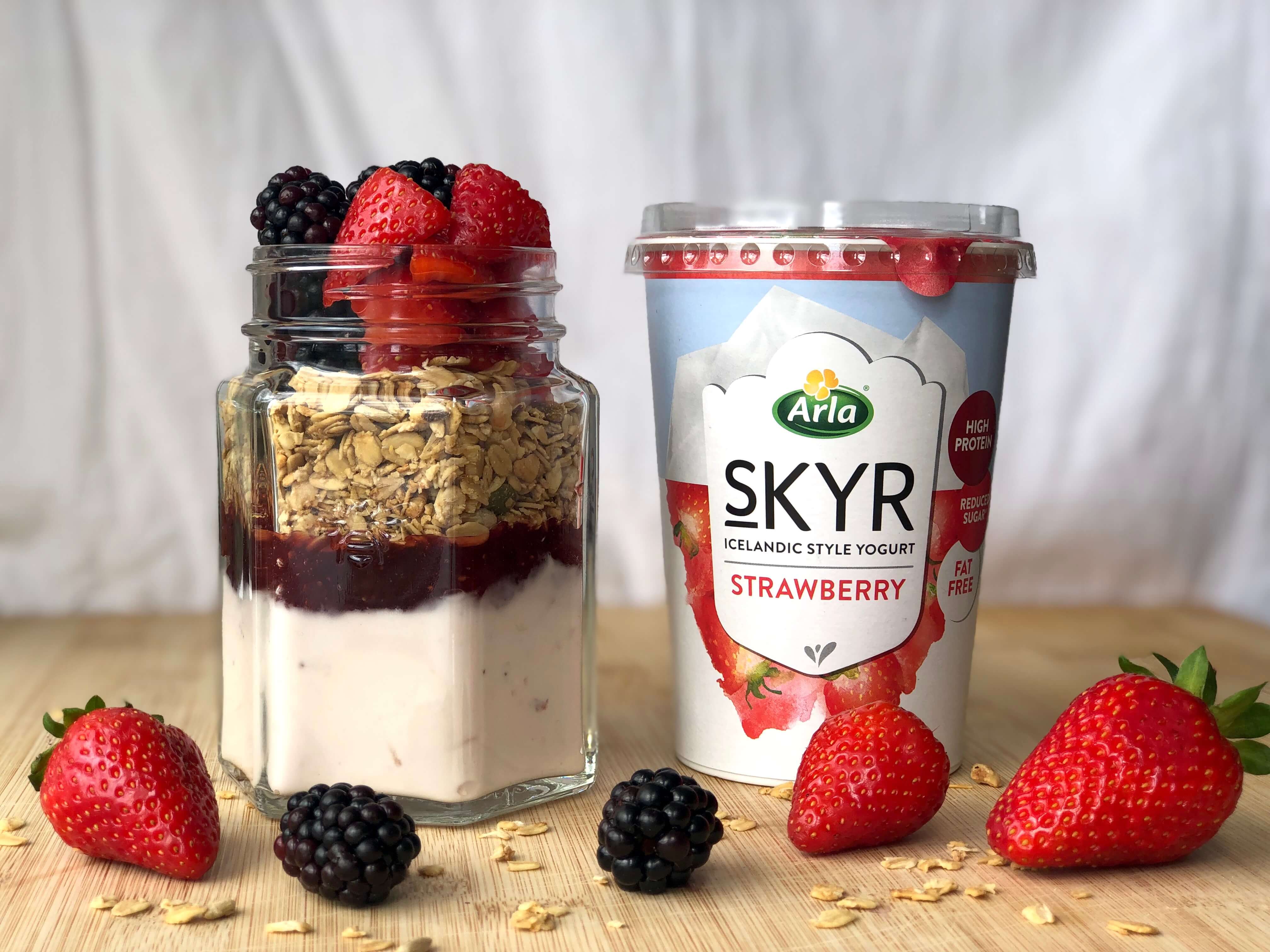 Breakfast bowls topped with summer berries and strawberry Arla Skyr
I use yogurt in so many ways, but it's often the simplest of creations that can be the most satisfying.
Drawing inspiration from the Nordic way of life, Arla Skyr strawberry is both fresh and tangy, making it delicious when layered in a jar or bowl with raspberry compote, topped with chopped strawberries, whole black-berries, and a sprinkling of nuts or rolled oats to finish it off and give it that extra layer of texture. It's the ultimate berry-filled breakfast.
Breakfast bowls are so easy to make and can be eaten on the go. I slice fruit in the morning and pack some rolled oats and nut mix in a re-useable container ready to eat when I get to the office. All that's left is to add my yogurt into the container, and I have a tasty protein-rich breakfast.
Tasty weekend treat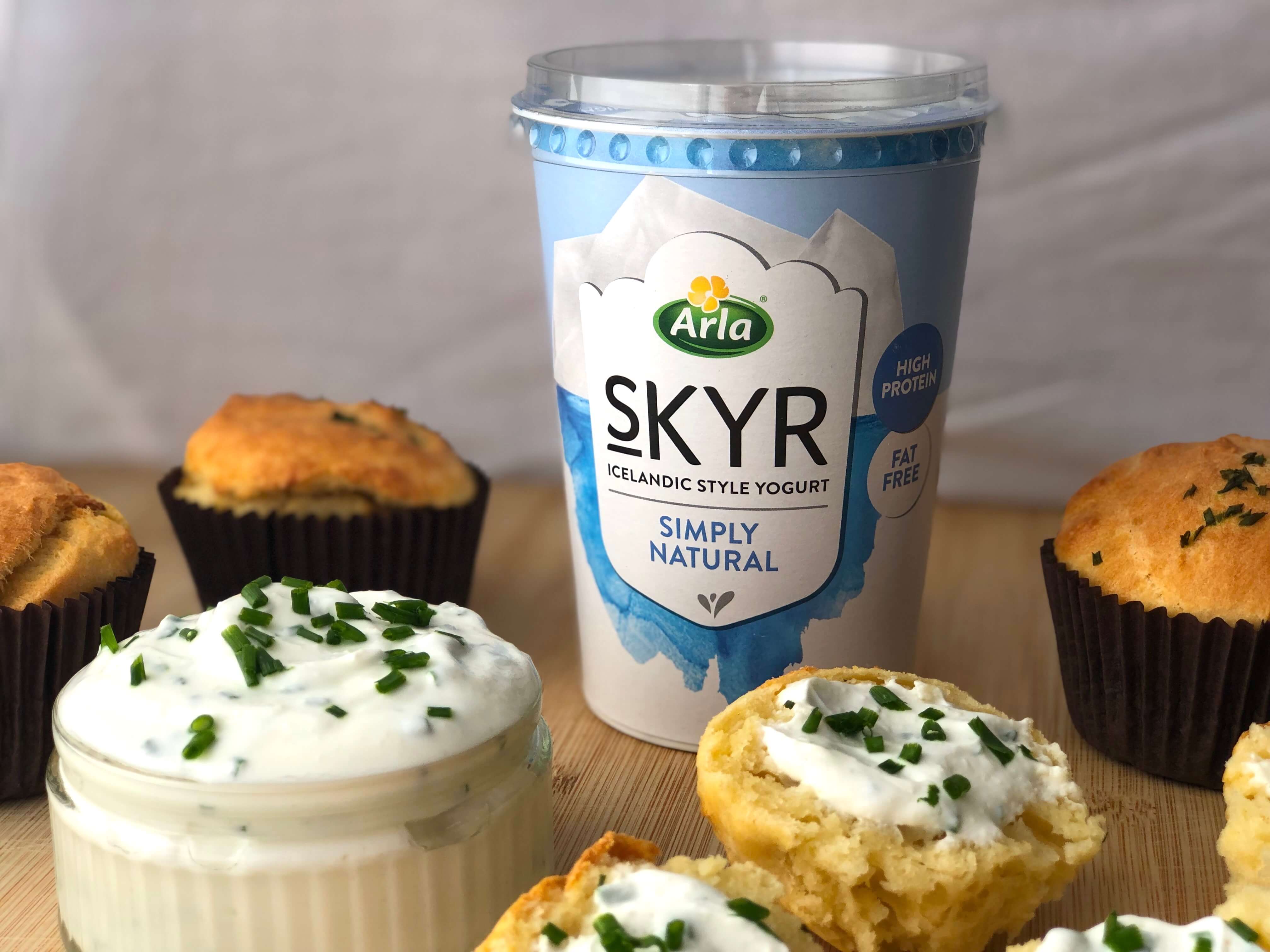 Muffins with a chive spread, made using natural Arla Skyr
One of my favourite breakfast snacks to prepare as a weekend treat are muffins. Muffins are super easy to bake and I like to use natural yogurt in my muffin mix to make them moist and give them a unique texture. I also throw together a delicious chive spread to spoon on top of the muffins.
When combining ingredients for the muffin mix, I simply add a scoop of natural yogurt which helps them stay moist and adds a light tanginess.
For the chive spread, while your muffins are baking, place a scoop of natural yogurt into a bowl, mix with a couple of tablespoons of freshly chopped chives and a teaspoon of garlic powder. Set to the side to let the flavours steep until your muffins are done.
Once your muffins are ready, leave them to cool for a few minutes and then slice each of them in half, spreading the chive and garlic yogurt mixture over the inside of each half generously. It's great to use a yogurt like Arla Skyr, as it gives your breakfast that little protein kick, or you can have a great snack for later.
A staple snack
Although muffins are fun to bake, growing up, bagels were a staple in my household. Now, if I want quick and flavourful bite, I love to make a toasted bagel to enjoy at home or while I'm out and about. It's so easy to pile everything into the bagel, just like a sandwich.
Slice your bagel in half and spread some thick cream cheese on the inside. If you want, you can toast your bagel like I do, making it warm and crunchy. Next, take a few slices of smoked salmon, red onion and a slice of a large tomato and place them on top of the cream cheese spread. Squeeze some lemon juice to add a little bit of acidity. If you want to add a twist you could use Arla Skyr natural instead of cream cheese.
If you like a saltier flavour, you can add capers, and if you want a little spice, sprinkle some black pepper on top before closing the two halves of the bagel back together.
If, like me, you prefer to eat your bagels open faced, you can simply put all the toppings on both sides. This adds a bit more protein through the second layer of cream cheese and smoked salmon.
These recipes are my go-to breakfast tricks, helping me ensure I am eating a protein-rich breakfast and energise myself to feel ready for the day ahead.
I'm Gemma, a food blogger and digital marketing manager with a passion for finding the next best place to recommend, recipe to try or food photo to take. I've been blogging for just under a year now, focusing on sharing easy, filling and delicious recipes, as well as write-ups about all of the restaurants I enjoy within London and in my travels. I'm a big skyr yogurt fan because my job can include a lot of meetings and running around, so to be able to grab a yogurt on the go, or throw something tasty and high in protein together before I head out for the day is perfect for my busy schedule.