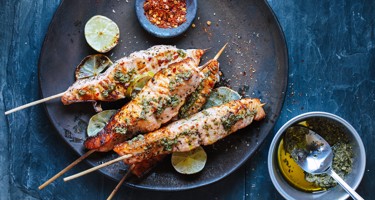 Summer diets may sound like no fun – but they don't have to be. Use these simple healthy eating ideas and improve your wellness this summer.
Summer is one of the best times of the year for food. Barbecues, picnics and ice cream are staples of summer, bringing a traditional seasonal taste to tables across the country. But just because it's summer, it doesn't mean you need to abandon your healthy eating plans.
Eating well needn't be a chore, even in summer. While those burgers may seem tempting, there are plenty of other ways to enjoy the sunny taste of summer without having to abandon your wellness regime and without having to feel like you're missing out.
Stick to a healthy diet plan throughout the warmer months with our top tips and recipes for healthy seasonal delights for this summer.
1. Grill some veg
Whether you've got the barbecue going or have moved inside due to the unpredictable British summer, add some vegetables to your grill alongside the sausages and burgers to give you a healthy alternative.
Grilling is one of the healthiest options, as vegetables retain more nutrients when cooked this way than boiling or steaming and no additional fats are needed (unlike when frying)¹. They're high in fibre and the natural sugars caramelise to create a sweeter flavour.
Some of the best vegetables to grill include:
Asparagus
Aubergine
Bell peppers
Corn on the cob
Red onion
You can even quickly throw together a cooling yogurt dip, using skyr, for your vegetables to give your dish that extra dose of flavour.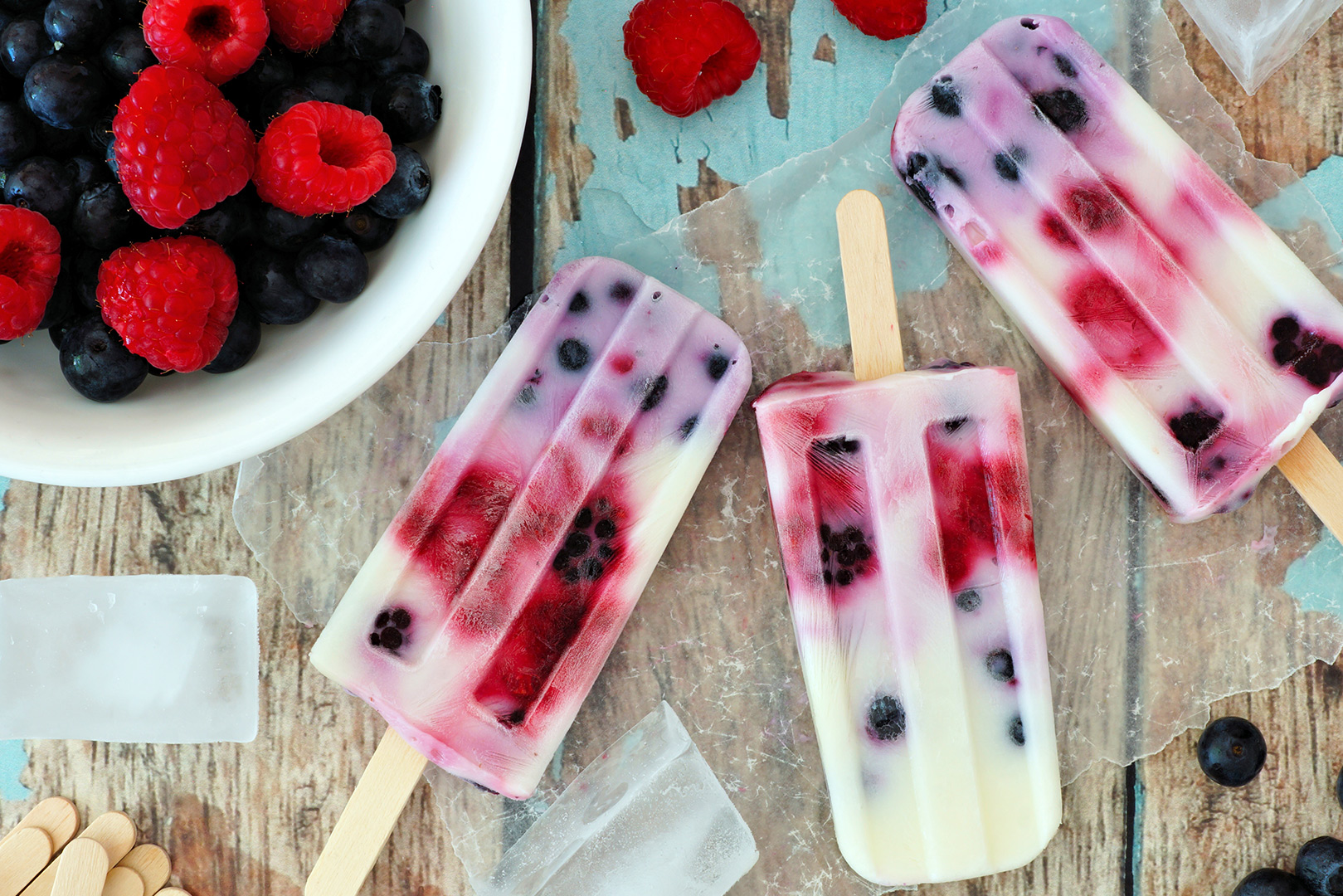 2. Homemade Skyr popsicles
Sweet and refreshing, ice lollies and ice creams are a summer staple, but the shop-bought variants can easily put an end to your healthy eating regime, with some containing over 20g of sugar and over 200 calories².
To avoid this, why not create your own popsicles with skyr? All you need is 150g of raspberries, 300g of Arla Skyr natural yogurt and 50g of granola. To make the popsicles, crush the raspberries to make a pure, combine with the skyr and granola then put the mixture into moulds and pop them in the freezer for a few hours for some refreshing homemade treats with reduced sugar that are full of goodness.
3. Eat more fish
Summer dieting means trying to focus on leaner meats, and fish is a great choice. At least two portions are recommended³ each week as part of a healthy diet plan (including one oily fish, such as salmon or sardines).
In summer this is easy to achieve. Coat a salmon fillet with coriander and parsley (or jerk spices for a hotter option) and a dash of olive oil in foil, then put it straight on the barbecue for a fantastically aromatic and flavoursome alternative to a hot dog.
4. Focus on fresh fruit
A great way to prevent cravings for ice lollies and ice cream is to replace them with more nutritious options like fresh fruit.
Summer is the season when cherries, apricots, peaches, strawberries and more are ripe⁴, so it's a good time to make the most of them. Throw a handful on top of a bowl of skyr for a sweet, tangy, tasty snack, enjoy them on their own or create a colourful, delicious fruit salad that brings the flavours of the season bursting to life.
5. DIY smoothies
Smoothies are often seen as being a big part of a healthy, low-carb diet, but many sold in shops are high in sugar too⁵.
Use fresh fruits to make your own refreshing beverages and limit yourself to one a day. They are still a great source of fibre, but consider adding yogurt, milk or seeds to balance out the sugars (and add some extra protein).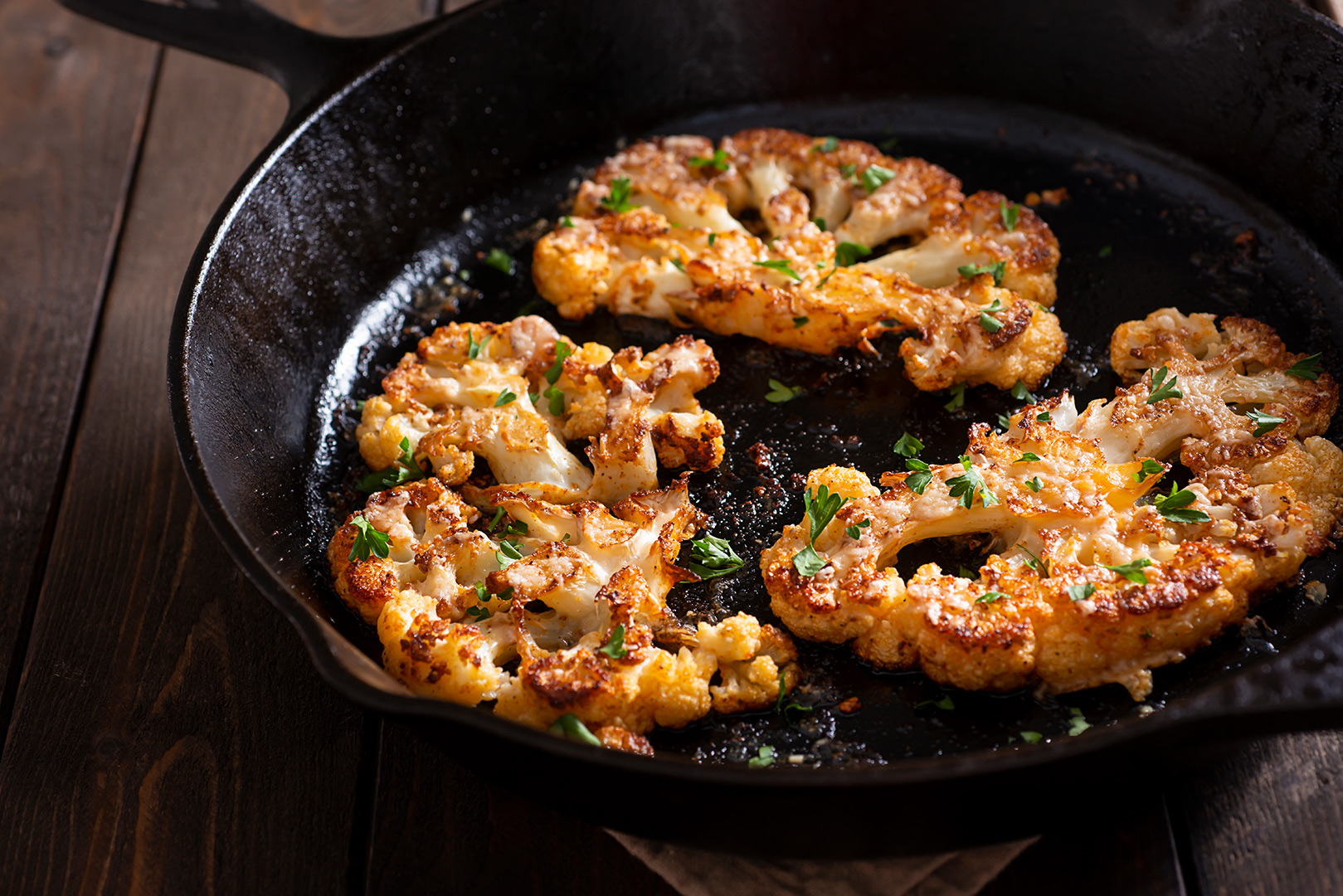 6. Cauliflower steaks
Cauliflower steaks are a great, low-carb and low-fat alternative to the traditional burgers and sausages you'll find on a summer barbecue, and you don't need to feel like you're missing out.
Throw in a red pepper, olive and caper salsa for some tantalising flavour, or add almonds or other nuts on top to increase the protein content. If you're not grilling outside, these can be just as easily roasted in the oven.
7. Lean meats
When you find yourself invited to, or hosting, a lot of barbecues, it can be easy for your red meat intake to quickly go through the roof. Along with introducing more fish, focus on leaner meats such as ground turkey and skinless chicken breasts to keep that wellness push on track.
These can all be jazzed up with healthy marinades or sauces, so as not to sacrifice any flavour. Plus, leftovers make a great addition to a packed lunch as part of a healthy wholemeal wrap.
8. Switch to low-fat marinades
The best summer foods are usually those coated in a sweet and sticky marinade, whether it's a full rack of ribs or some sumptuous wings. For those following healthy eating plans, such marinades are normally high in sugar, salt and saturated fat, but that doesn't need to be the case.
A good option is to switch the main base of the marinade out for a low-fat alternative, such as Greek yogurt or skyr. Dairy-based marinades are also better at tenderising meat than acidic varieties, thanks to the natural bacteria they contain.
9. New potato, kale and feta salad
Cold salads are another essential in summer diets. It's important you mix it up and keep them interesting to fend off temptation for unhealthier options.
A new potato, kale and feta salad is a good combination of healthy carbs, nutritious kale and a good protein source thanks to the feta and pumpkin seeds. Garlic, avocado, mustard, yogurt and lemon juice make for a zingy dressing too.
10. Cut the calories
Hot dogs, burgers, even vegan options always seem to be served in a bread bun at barbecues. And those carbs can quickly add up. If you're on a low carb diet, one solution is to drop the bun and replace it with a lettuce wrap instead, or a lower-calorie wholemeal pitta.
11. Hydrate
Drinking more water in the heat (and when enjoying a few extra beers and cocktails) is essential. You can do this by keeping your water bottle close to you at all times, or even eating certain foods, as they hold onto water well. These can include:
Watermelon
Cucumber
Tomatoes
Peppers
Lettuce
Beans
Why not stuff some pureed beans into lettuce leaves or have carrot sticks for dipping in salsa or hummus?
13. Summer squash pad Thai
Summer squash pad Thai⁶ makes a great evening meal to enjoy in the garden, or as a nutritious lunch when escaping the office for a few rays of sunshine.
Courgette and squash replace the noodles – reducing the calories and increasing the veg count – and it can be topped with stir-fried chicken, prawns or tofu.
14. Hearty yet healthy sides
Even side dishes can impact summer diets when they're full of potatoes, cheese and layered in tasty but unhealthy sauces. Switch out some of the ingredients and make the most of seasonal crops with a herby tomato gratin⁷.
These replace potatoes, with breadcrumbs from a fresh baguette adding a crunchy texture and your chosen herbs injecting flavour.
15. Count your condiments
You might think going for the salad is the quick way to stick to your low carb diet, but many sauces and dressings are packed with fat, sugar and calories. Check the ingredients on the bottle if it's not homemade.
Alternatively, reduce the need for dressings and condiments by adding extra herbs and spices to dishes so they're already full of flavour – or add sautéed vegetables as a topping instead.
Creating a healthy and tasty summer diet is achievable, so you can enjoy eating and drinking throughout the warmer months without dealing with the fear of missing out.
Article References: