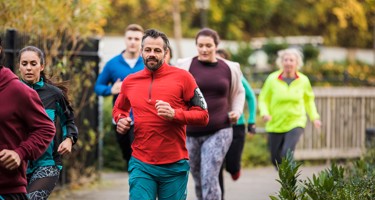 Find out how setting up her running club helped to improve Natasha Walsh's wellness and benefit the local community. Find out more with Arla skyr.
Being involved in community wellness is integral to holistic wellbeing. I've benefited from the encouragement and positivity that a community presents and achieved goals I would have never thought possible. Because of this, I wanted to do the same for others and create a place where they could achieve their fitness goals, to make them feel part of a community without judgement and running was the only way I knew how.
Why I decided to set up a running club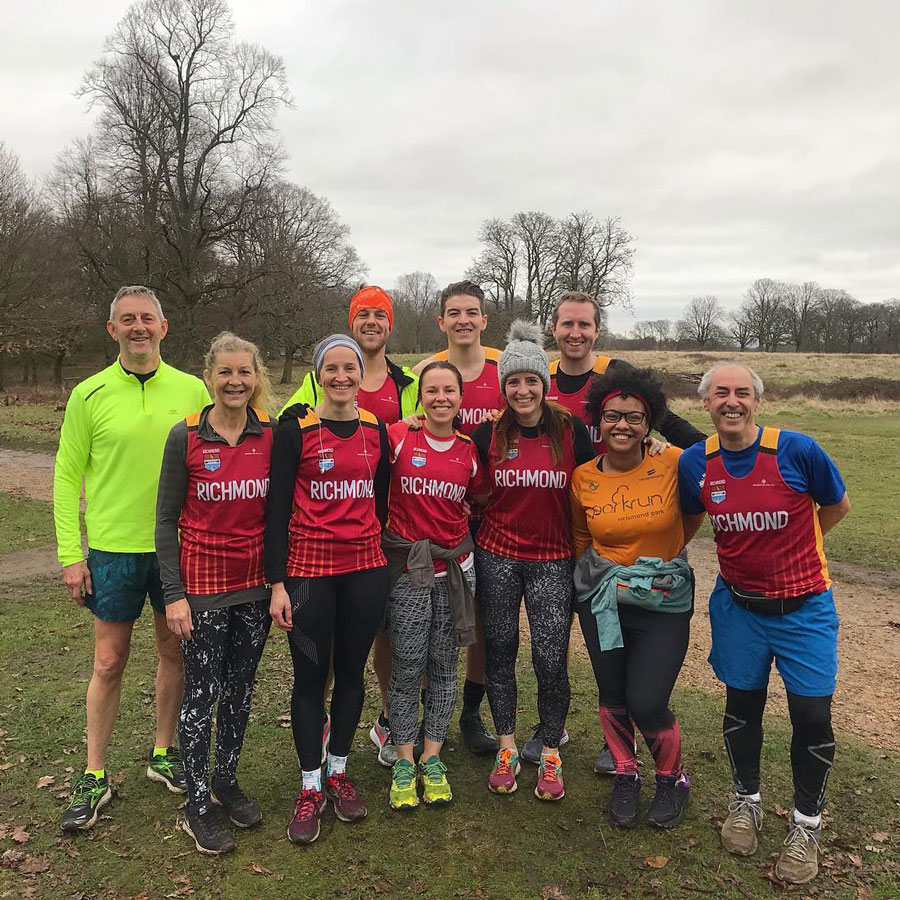 Members of RRC on their club run
When my partner and I moved to Richmond in Surrey, it presented the perfect opportunity to create our own running club. We were keen to continue running, but perhaps more importantly, to make connections and meet new people in the area. We aimed to build a community of people at all fitness levels, united over their desire to run. It was really important for it not to be about elitism, instead focusing on a nurturing and building a positive community, encouraging each member no matter their ability.
Choosing a club name was easy, Richmond Running Club was the obvious choice for us, so we designed a logo and running vest and started wearing them to the local Parkrun. We got a write up in the local magazine and put a lot of time into our social media pages. After some initial interest we set the date for our first "official" club run. We were really nervous to see if anyone would actually turn up, but to our surprise there was a group of willing participants.
From our first run, we've built a lovely group of runners who really span the full width of abilities. From runners who can complete a marathon in under three hours, to others who are taking on their first challenge of a 5k race and we're currently in the process of getting club affiliation with England Athletics.
Why being part of the community matters to me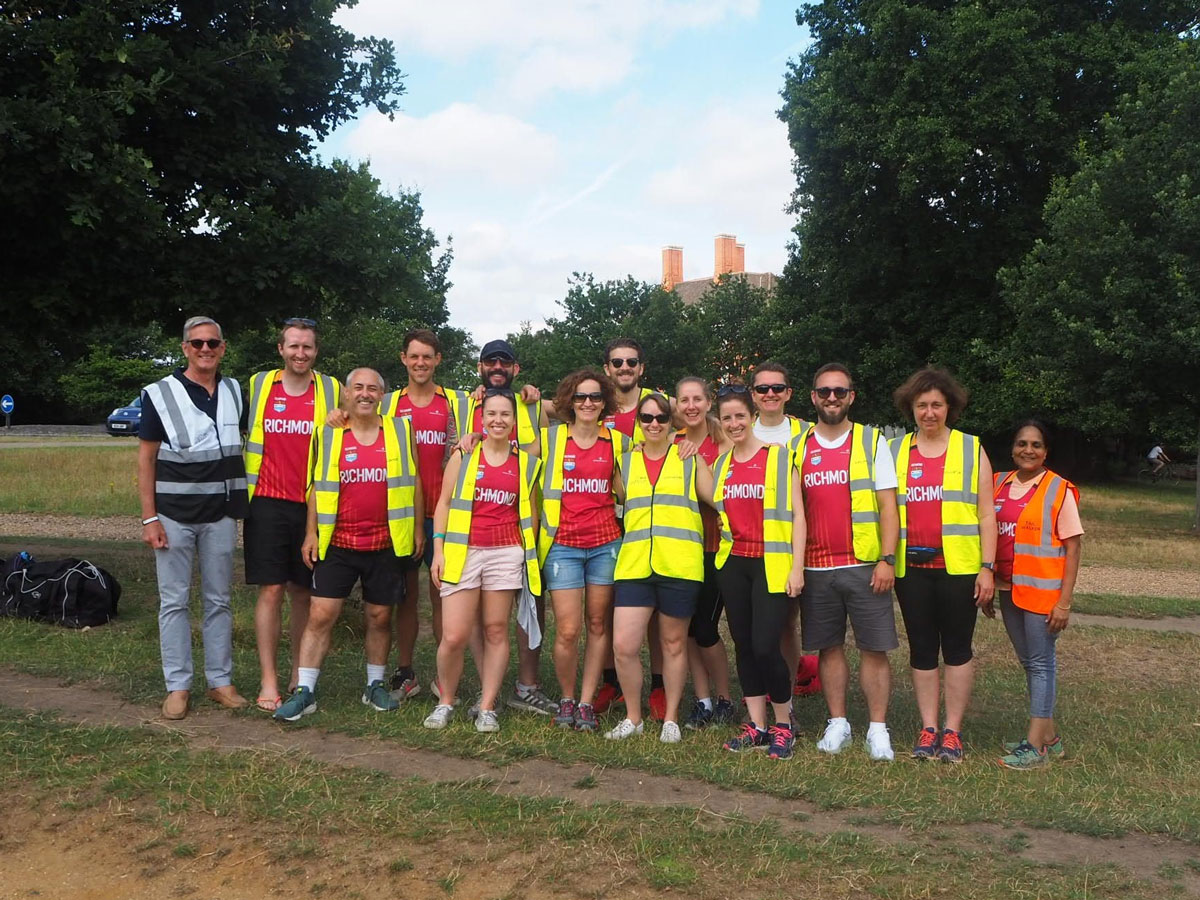 Richmond Running Club volunteering at Richmond Parkrun
Creating a community of runners has not only been beneficial to our members, but it's been integral in helping me achieve my own goals. A few years ago, I suffered a series of viruses, which were really detrimental to my health and training. Focusing on the running club and sharing in the success of others was a great motivation for me. Being accountable and turning up for others made me turn up for myself — so much so, six weeks ago I completed my third marathon, in Berlin, alongside five other Richmond Running Club runners. Without their support and belief, I wouldn't have made it to the start line.
We've also become friends, seeing each other outside of running at weddings, parties and having the occasional drink down the pub… we are runners after all. It was also great to give back to our local community recently, by volunteering en masse at Richmond Parkrun.
How others can benefit from the community spirit
Loneliness has become a real epidemic in our society. Opening up opportunities to improve wellbeing and connect with others is incredibly important. While a gym can be great for improving fitness, they can also be daunting and a solitary affair. Sports clubs are an opportunity, not only for physical fitness but to fulfil a basic human need, belonging.
Community wellness is also about inclusivity. Creating a neutral and safe space for all. In Richmond Running Club you'll often see us using the phrase 'all abilities welcome' and this in turn has encouraged people from all walks of life, ages and fitness levels, people who otherwise wouldn't have exercised.
Being part of a community goes way beyond exercise. The benefits of being out in the fresh air can't be underestimated when it comes to mental wellbeing. In the winter, when we tend to lock ourselves in, having a group of people to meet up with is great motivation to leave the house and get some much-needed fresh air.
Feeling inspired?
Community wellness has not only helped me achieve my goals, mental and physical wellness but has encouraged me to pay it forward and help others.
If you're inspired to do the same why not join Parkrun, local running club or start small by encouraging some friends to join you for a walk or a run. If you're based near Richmond, Surrey come along to a Richmond Running Club session - we would love to welcome you into our running community.
Follow me @natashakimwalsh on Instagram and message me for more advice on running as part of a community.
Natasha Walsh first started running in her home county of Norfolk. She fell in love with the sport after taking part in a 10k race to raise money for Type 1 Diabetes, a disease her younger brother had just been diagnosed with. In 2015, after joining her local running club, she won a club place at the London Marathon - since then, Natasha has gone on to complete a marathon in Valencia and Berlin and half marathons in Amsterdam, Verona and several across the UK.
In 2017, alongside her partner Tom Dilrew who's also a marathon runner, she co-founded Richmond Running Club as a way to encourage people of all fitness levels into running.