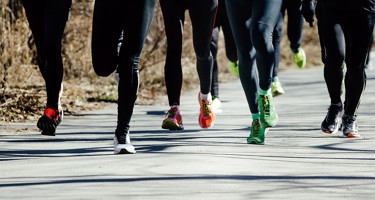 Find out how Anna Harding changed her life by getting into running after joining her local parkrun. Be inspired to reach your wellness goals with Arla skyr
When you first start running, it can feel hard. You forget how to do the one thing you do every single day without thinking - breathe! You wonder if everyone else is looking at you or secretly judging you. You desperately want to stop when it starts feeling tough and wonder how on earth other people are able to run distances like 5ks, 10ks, half marathons or even marathons. Or at least that's how I felt the first time I started running. I never dreamed when I started my running journey that I would go on to become one of those people who runs marathons!  But how did I get there? Well it all started with a free, weekly timed 5k run known as 'parkrun'.
My running journey
Fifteen years ago, a group of 13 runners and five volunteers turned up to Bushy Park in London for a free, timed, 5k run. More than a decade on, what started as the 'Bushy Park Time Trials' has grown hugely into what's known now as parkrun. This global phenomenon has since seen more than four million people around the world completing a parkrun across 21 different countries. Between them, that's a staggering 53.8 million parkruns!
I first discovered parkrun in 2013. I wasn't particularly active and lacked the 'get-up-and-go' to actually just go out for a run. I was 25 years old, living in Newcastle and much preferred the idea of going out on a Friday night and sleeping in 'til lunchtime on a Saturday. But I decided I'd give it a go and went off to Whitley Bay parkrun to see what all the fuss was about.
Afterwards, I remember the smug feeling that came with knowing I'd done something worthwhile with my morning and was home, showered and ready for the weekend by 10am. However, it wasn't until four years later that I was truly bitten by the running bug.
In 2016, a good friend of mine passed away. His passing sent shockwaves around the close-knit community where I grew up and as a tribute to his zest for life, the phrase 'Be More Bav' was born. The idea behind it was life is far too short and you should push yourself out of your comfort zone to make the most of the time you have. So, naturally, I decided to run a marathon.
Building up to my first marathon
Starting from a point where I had no real experience and working up to running 26.2 miles was daunting. I signed up to Edinburgh Marathon in January 2017 and had until May to get ready. Drawing on my first experience of parkrun and how motivated I'd felt after my first ever event, it felt like the right thing to do to start committing to spending my Saturday mornings at parkrun. I'd moved to Yorkshire by this point for work and my journey started at Bradford parkrun.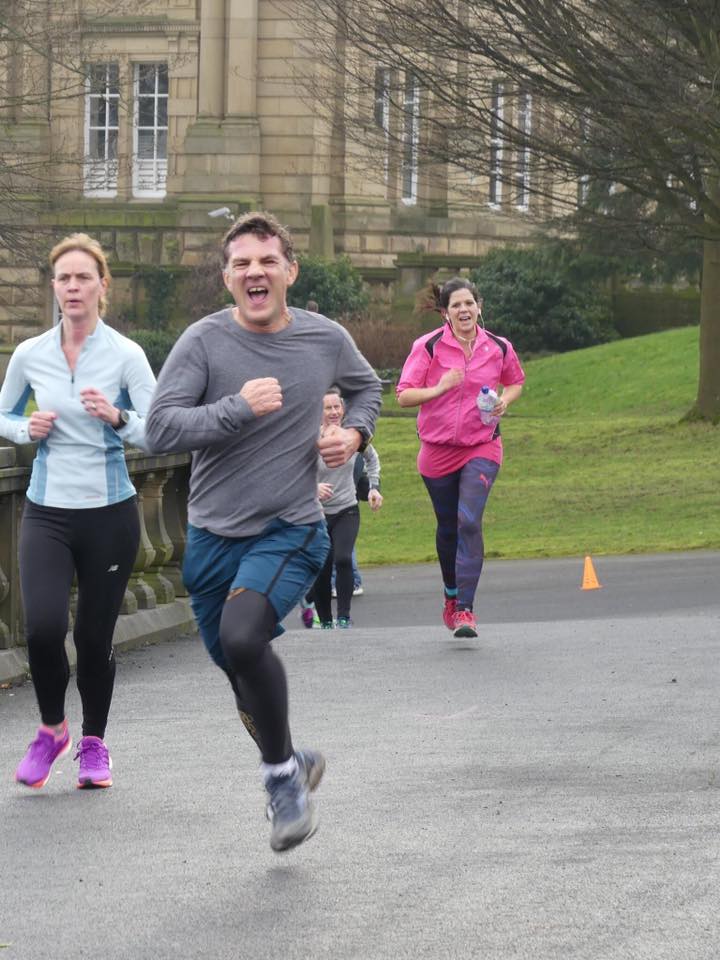 ABOVE: Me at Bradford parkrun, January 2017
I enlisted the support of my housemate Hannah and we headed along to give it a go. It was hard work. But I got that feeling again immediately afterwards that I'd done something I could be proud of. I went back again and again. Each week I saw my times come down and it became a competition against myself.
How Parkrun helped
The great thing about parkrun is that it is so inclusive. You get the super quick guys pushing really hard at the front for the best possible times, as well as the mums and dads with buggies and people with their dogs, and everyone is smiling by the end and always up for a chat.
It's through parkrun that I met a group of runners who belonged to the local running club, The Saltaire Striders. They suggested I join and go running with them in the week to help with my marathon training, which I did. This sense of community and an appointment to show up to training really helped push me through the marathon training and got me ready for marathon number one. All the time remembering to 'Be More Bav'.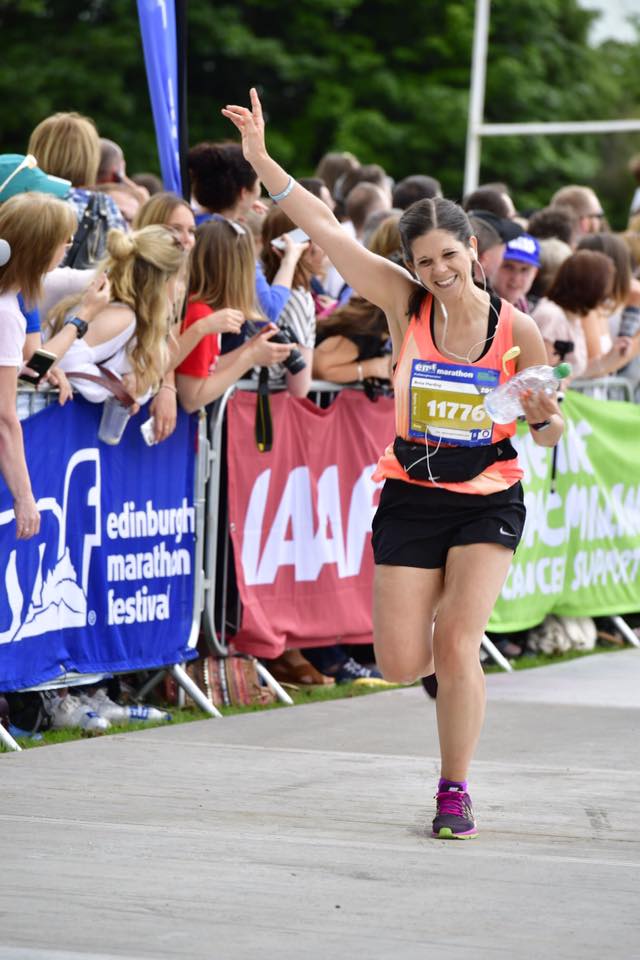 ABOVE: Me about to cross the finish line of Edinburgh Marathon, May 2017
Running and mental health
By this point running had become a huge part of my life. The feeling I got mentally from going out and running was so positive. I loved meeting new people who shared my new hobby.
I have, at times, struggled with my mental health and in particular dealing with my own body image. I was bullied at school by people who called me fat. But running gave me such a massive confidence boost. Upping your physical activity, even by running once a week at parkrun, can have many benefits, including weight loss, increased strength and improving your overall fitness. I experienced all of these things in abundance. Now I love my body. Not because it's in any way perfect. Far from it. But because with every challenge I undertake I prove to myself that I am capable of anything.
Running with family and friends
For me, running is not all about personal bests and extreme challenges. It's about sharing my passion with new people and those closest to me. Parkrun is such an accessible way to do that. Whenever I visit family I try to recruit them to come to parkrun with me and have done a number of them with my mum, her partner, my sister and my brother-in-law. We recently went on a family holiday to Woolacombe in Devon, home of the toughest parkrun in the UK, and I managed to get most of the gang out to run it with me. I obviously didn't tell them in advance about the MASSIVE sand dune 3k in, but look at the smiles on their faces afterwards!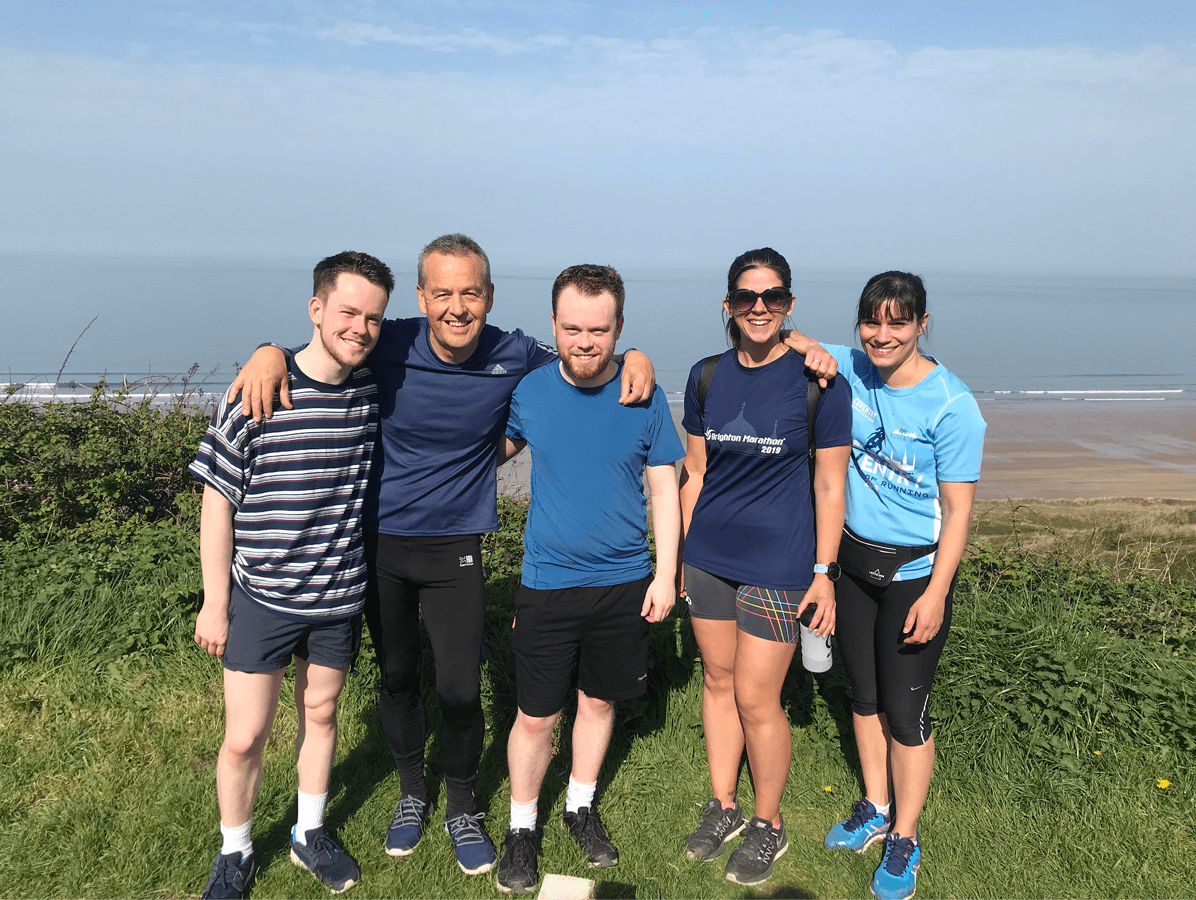 ABOVE: Family outing to Woolacombe parkrun in Devon
A good friend of mine from university also wanted to start running and didn't know where to start. parkruns are run entirely by volunteers, so I suggested we sign up to volunteer at her local one as the 'tail walker' so she could see what the events are like. This role involves staying right at the back of the pack so that no one has to be last - because let's face it, that's one of the biggest fears when you start running in public with other people. We've all been there! We had the best time and got talking to a lovely lady who couldn't run the parkrun because of a heart condition but had come out to get some gentle exercise and walked it. That's the great thing about parkrun - it isn't a race. It's about being active.
I really hope that's inspired you to want to sign up and go along to a parkrun yourself. If it has, it really couldn't be easier. Check out their website for the nearest parkrun to you. Then sign up for free. You then get emailed a barcode which you need to print off and take with you. The one rule of parkrun is 'Don't Forget Your Barcode'!!
If you have any other questions about the sign up process, we made this video on The Running Channel all about it from the start to what to do when you turn up at your first event. Happy running!
Anna Harding is head of content at The Running Channel, a YouTube channel for runners offering training tips, fun challenges and topical videos all about running.
Anna started running in 2017 and has since completed 7 marathons and 3 ultra-marathons. Her love of running sees her take part in everything from parkrun, sociable group runs, track and field and cross-country competitions with her running club, Serpentine Runners, and mass participation events up and down the country and further afield.