Learn all about how following a high protein diet has helped award-winning blogger Nichola Ludlam-Raine to reach her wellness goals.
As someone with an active lifestyle, the right nutrition has always been an important consideration for me. Whether it was eating well for a high school athletics training session, cycling to lectures at University or just fuelling up for busy days on the go, it's important to me that I always eat well. This has been even more true in recent times, where my role as a dietitian has helped me better understand the value of balanced nutrition and eating the right amount of protein. Having this understanding helps me pursue my wellness goals, which are:
Stay functionally fit and strong - this means that my workouts should enable me to gain muscle strength and move more easily during day to day chores and household tasks; such as lifting and moving heavy furniture and picking up and carrying my baby!
Develop my flexibility to reduce chances of injury
Feel positive and motivated to take on the day
Enjoy a balanced lifestyle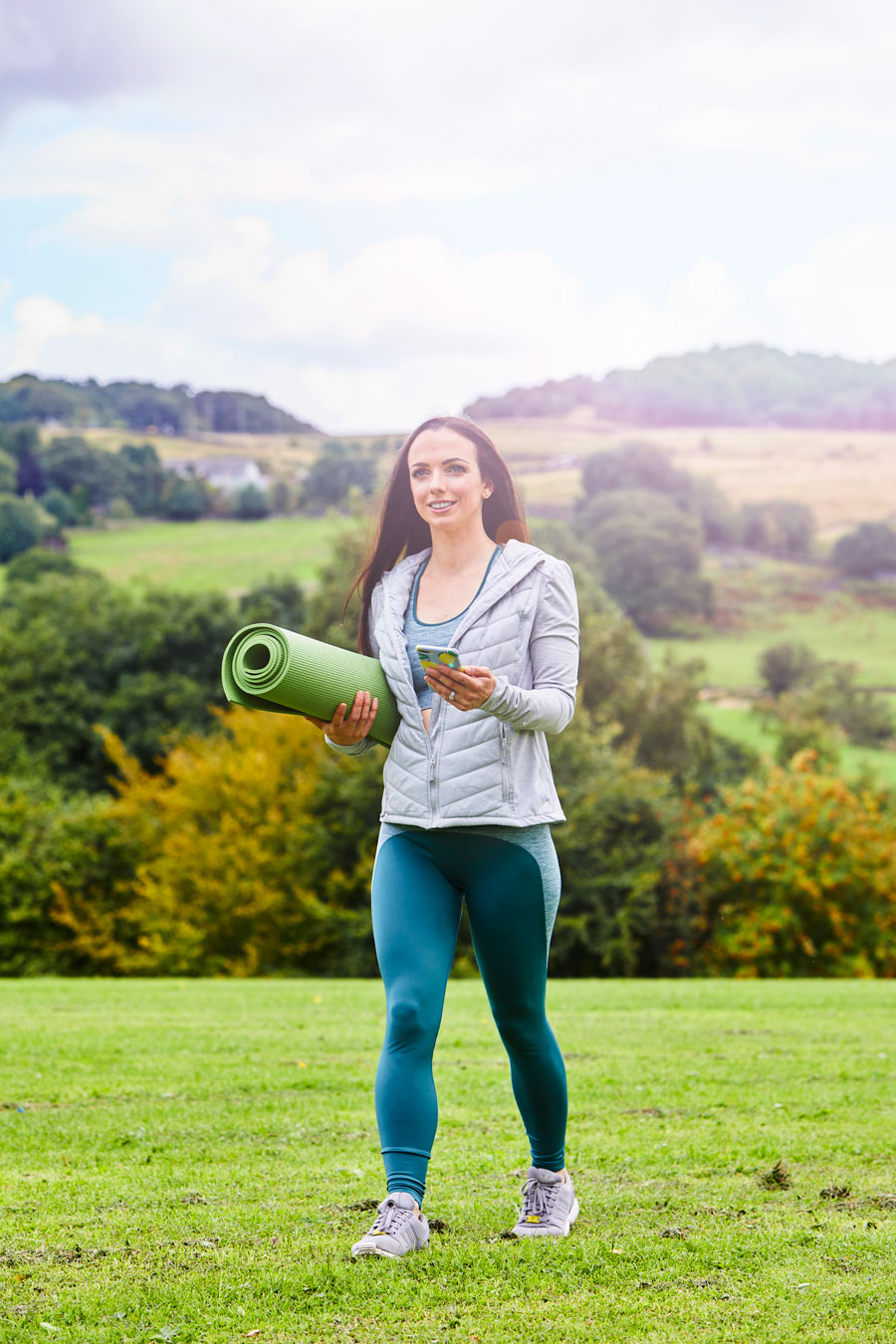 Nic heading outside to do some yoga to boost her mind and body wellness.
How I include protein in my daily diet
To achieve my fitness and wellness goals, eating an adequate amount of protein, within the context of a healthy and balanced diet, is crucial. I make sure I eat protein at every meal, as well as making sure protein is present in the majority of my snacks. I prefer to 'drip feed' my body protein, rather than eat it over one or two meals! 
For me, eating protein at every meal also helps me to feel fuller and more satisfied. I aim to fill a third of my plate with a protein source such as fish, chicken, eggs, beans lentils, or dairy which contributes to the growth and maintenance of muscle mass. I fill another third with wholegrain carbohydrates such as oats, wholemeal pasta, basmati rice, sweet potato or quinoa for energy and insoluble fibre, and the remaining third with vegetables, fruit or salad for vitamins, minerals, antioxidants and soluble fibre to complete my daily healthy diet. And yes, I still have "treat foods" such as chocolate and biscuits, as there really is no such thing as good and bad foods, just healthy and unhealthy diets; think about your diet as a whole across the week and remember, it's better to have moderation over deprivation as you're more likely to achieve your goals this way.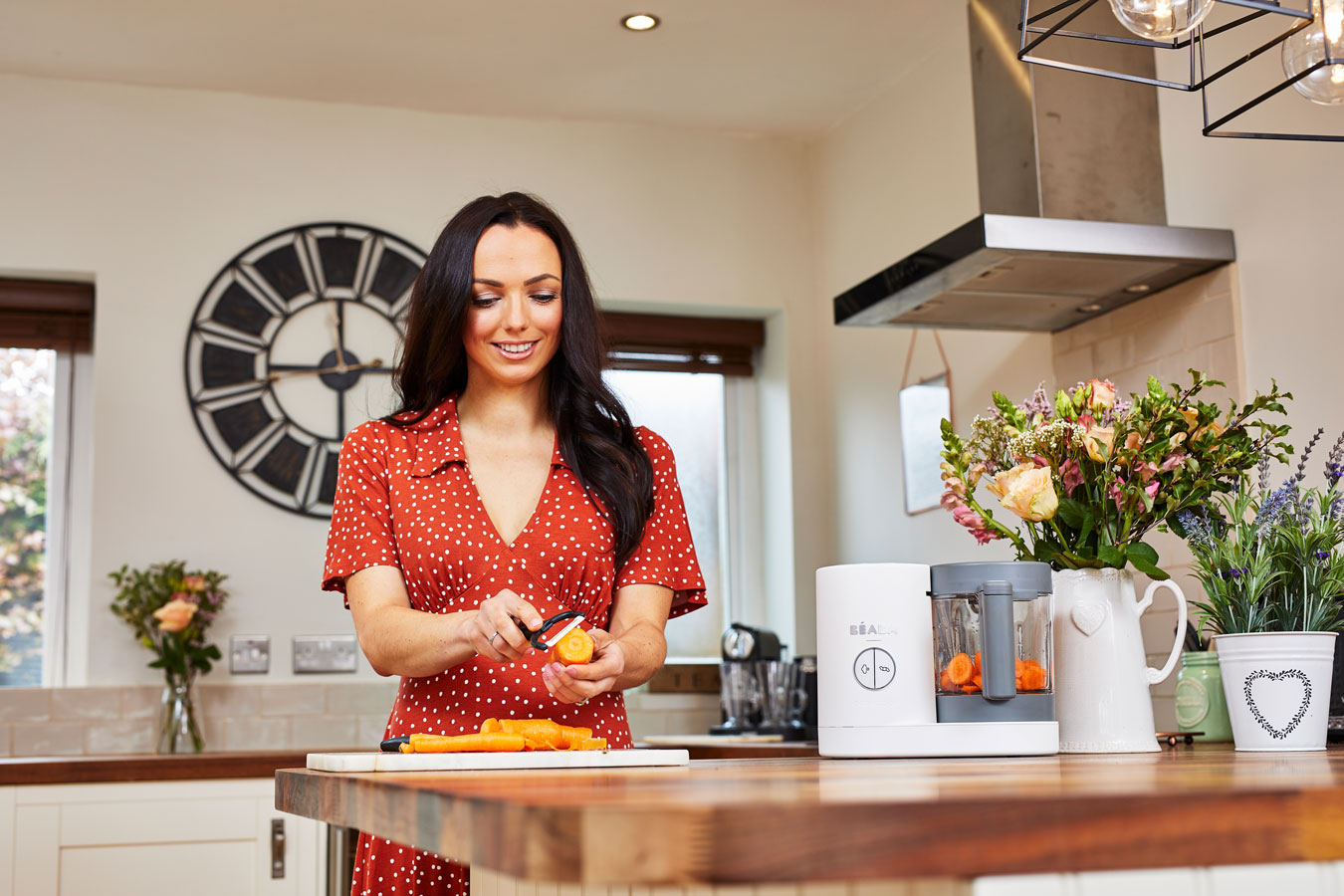 Nic pictured cooking up a healthy meal at home.
A typical day's diet for me looks something like this:
Breakfast: Porridge made with Milk topped with Yogurt, Banana, Berries & Cinnamon - Protein is provided by the milk and yogurt
Mid Morning: Cheese & Apple - Protein is provided by the cheese
Lunch: Falafel & Salad Wrap - Protein is provided by the chickpeas in the falafel
Mid Afternoon: White Bean Hummus & Carrots - Protein is provided by the beans & sesame seeds in the hummus
Evening Meal: Chicken & Vegetable Curry with Basmati Rice - Protein is provided by the chicken
Supper: Dark Chocolate & Almonds - Protein is provided by the nuts
I tend to drink water with no added sugar squash during the day, as well as plenty of tea and coffee (a mixture of caffeinated and decaf!). On a weekend we usually eat out or grab a takeaway and I indulge in the odd glass of alcohol. I also follow the 80/20 rule, which means if I eat well for the majority (80%!) of the time then the other 20% really doesn't matter!
Protein and exercise
In terms of exercising, I try to keep active during the week by going on a 30 minute walk on most days (weather permitting) and working out either at home by following a YouTube video or Instagram workout or at my local gym as a part of a mummy and baby fitness class two to three times a week.
My diet and fitness regime seem to work for me; I enjoy my protein-rich diet and look forward to working out because of how it makes me feel; it really does boost my mood!
Nichola Ludlam-Raine is a Registered Dietitian and award winning health food blogger over at nicsnutrition.com and new mummy blogger at mummynutrition.com. She has over 100,000 followers across her social media accounts @nicsnutrition and @mummynutrition, and has been working as a dietitian for over 10 years. Nichola frequently speaks on the BBC Breakfast sofa about the latest headlines in the world of nutrition and regularly contributes to numerous health focussed magazines as well as online media.