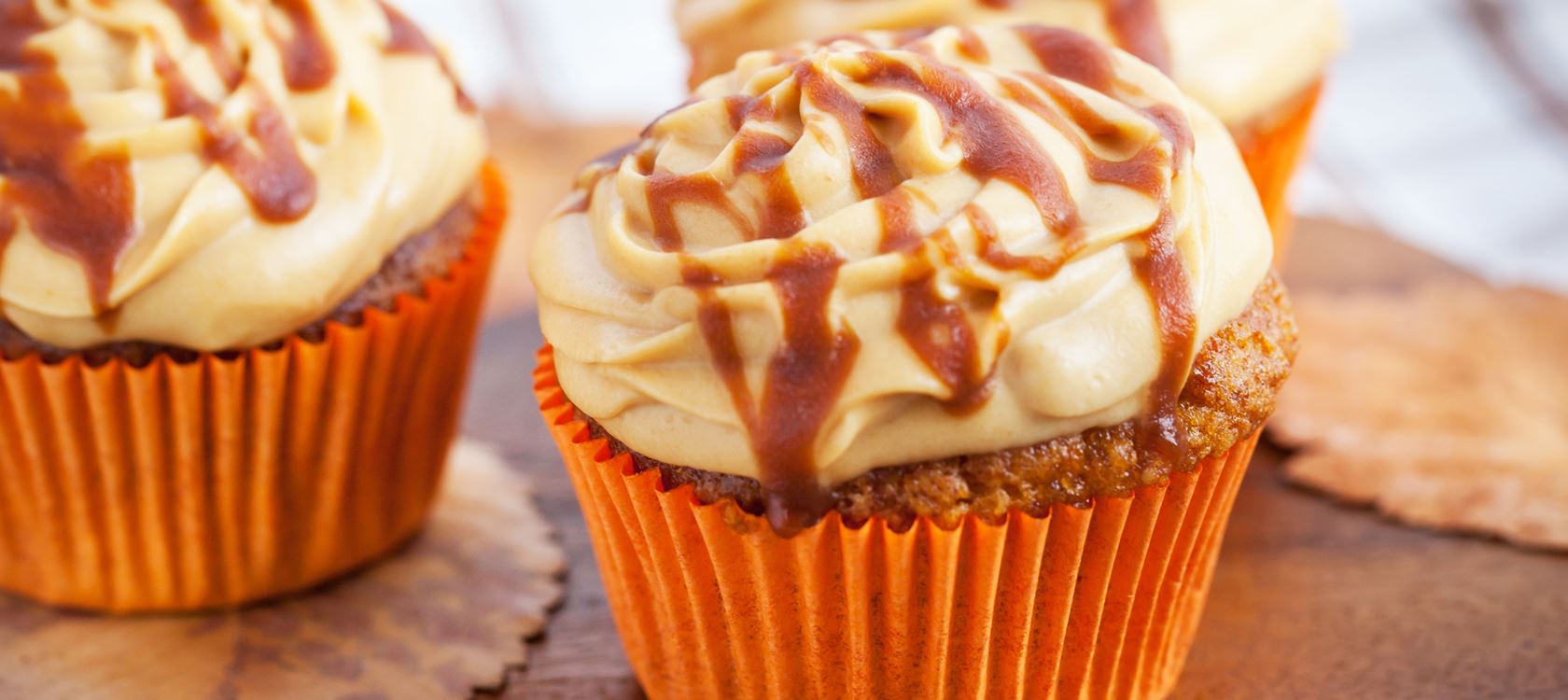 Enjoy a tasty treat this Autumn with moist Apple Caramel Cupcakes from Arla. Use Lactofree Cream for a light alternative that won't skimp on the luxury.
Ingredients
For the Cupcakes
2 Apples s
½ tsp Tsp Ground Cinnamon
250 g Lactofree Spreadable
250 g Self Raising Flour
250 g Caster Sugar
Large Free Range Egg
1 tsp Tsp Baking Soda (powder)
For The Filling
150 g Caster Sugar
100 ml Lactofree Cream
1 tsp tsp Fine Salt
For The Icing
250 g Icing Sugar
200 g Lactofree Spreadable
50 gram Lactofree Soft White Cheese
½ tsps Tsp Ground Cinnamon
Instructions
Instructions
For the cupcakes:
Preheat the oven to 180'C. Peel the apple and finely dice it.
Place cupcake cases into silicone or tin moulds. Whisk together the spreadable and sugar until light and creamy. Add one egg at a time and combine well. Sift the flour, cinnamon, and the baking powder into the mixture and gently fold together. Add the fresh apple and mix gently.
Spoon the mixture into the cupcake cases and transfer to the oven and bake for 12 to 14 minutes. Remove from the oven and leave to cool before icing and filling.
For the filling
Place the caster sugar into a deep saucepan and place on the medium heat. Keep stiring the sugar until it turns into an amber colour. At this stage remove the pan from the heat and add the spreadable and the double cream. Mix well until it has turned into a smooth mixture. Finally add the salt and leave to cool. Remove a small section of the cupcake and fill it with the caramel. Add the remaining caramel to the icing.
For the icing
Sieve the icing sugar. Whisk the icing sugar, cinnamon, the cream cheese and the spreadable together, until it is a smooth mixture. Mix the icing with the remaining caramel.
Place the icing into a piping bag with a star nozzle attachment. Pipe the icing on top of the cupcakes, starting from the outside of the cake working your way into the centre.
Print