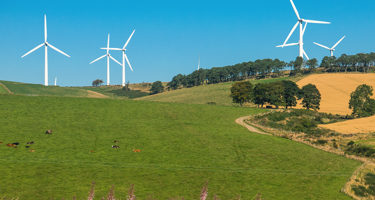 Living sustainably is becoming more important than ever. Reducing our impact on the environment and the world's resources might sound daunting, but we can all take little steps every day towards living more sustainably.
In this blog post, we'll take a closer look at what it means to live sustainably and how you can be more sustainable with your food habits.
What is sustainable living?
In simple terms, sustainable living describes a lifestyle that actively attempts to reduce and minimise the use of the Earth's natural resources. Sustainable living helps to reduce your carbon footprint and make positive changes in the fight against climate change. The planet is only able to produce a finite number of resources, so doing our bit to make sure we don't overuse these and cut down our impact on the planet is highly important.
Sustainable living can be achieved by making adjustments in different parts of our lives, from the food we consume to the clothes we wear. Here at Arla, together with our farmer owners, we work every day to ensure that we are playing our part in tackling climate change, from finding innovative ways to reduce emissions on our farms, to creating sustainable packaging and finding new ways to capture energy. Find out more about sustainability at Arla.
What is food sustainability and why is it important?
Food sustainability involves every aspect of the food journey from how it is produced, distributed, packaged and consumed. There are so many factors at play when considering the sustainability of food as it can have quite a significant environmental, economic and societal impact.
Here at Arla, food packaging plays a key role in helping to protect and maintain the safety, quality and freshness of our products, but at the same time we are also committed to minimising waste. This is why we are working hard to increase the amount of recyclable materials in our packaging and also use renewably sourced materials such as paper fibres and bio plastics where we can.
We're also keen to minimise the waste of our dairy products, so our products come with a 'best before' rather than a 'use by' date so people can judge if milk is still good or not rather than just throwing it away based on a label. You can find out more information on dairy sustainability and how best to use and store our dairy products here.
How you can be more sustainable with food
There are many little things you can do and changes you can implement in your daily life to live and eat more sustainably. This includes, preventing food waste where possible, staying mindful of best before dates, and even reusing food by freezing or finding clever ways to use leftovers or peels in other dishes.
You don't always have to take massive strides to do your bit for the environment, starting off small and making little adjustments here and there to begin your journey towards living and eating more sustainably will go a long way.