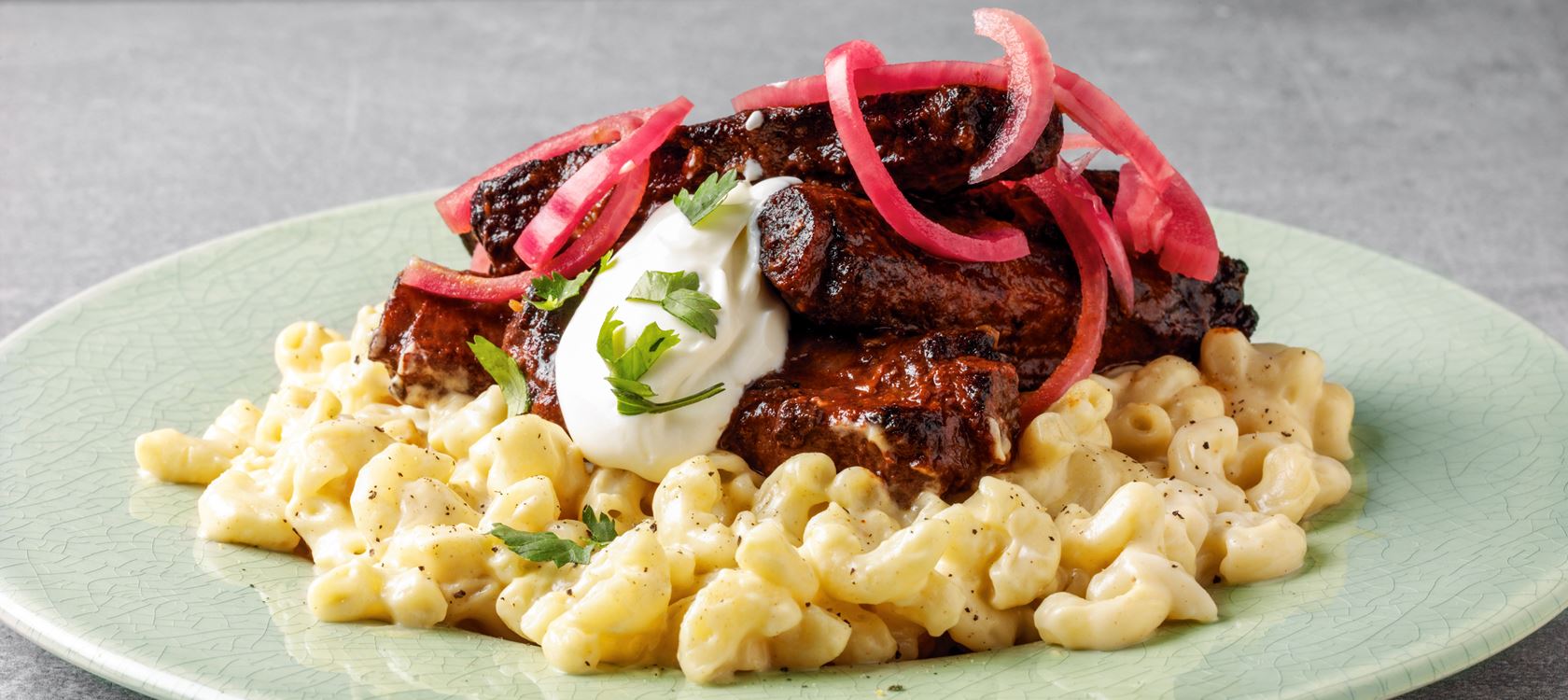 Give your Ribs and Reds macaroni dinner a lactose-free twist with our inspiring recipe using the best of Arla's Lactofree cheese and dairy range.
Ingredients
For the Mac
568 ml Lactofree Fresh Whole
400 g Macaroni
300 g Lactofree Cheddar
50 g Lactofree Spreadable
50 gram Lactofree Soft White Cheese
50 g Plain Flour
1 tsp Tsp Mustard
For the Topping
11 ml Beef Stock
4 Garlic
100 g Diced Onion
1 tbsp Tomato Pure
6 Thick Cut Short Ribs Ribs
350 ml Red Wine
2 Carrots Roughly Chopped
1 Piece Large Red Onion Roughly Chopped
1 tbs Tbsp Sugar
2 Pinches Tsp Salt
3 Tbsp Cups of Balsamic Vinegar
4 Black Pepper Turns
2 Cloves
1 Bay Leaf
1 Celery Roughly Chopped
For the Sour Cream
50 ml Lactofree Cream
40 gram Lactofree Soft White Cheese
1 Lemon Zest
Instructions
Instructions
Pre-heat oven to 160C. Season short ribs and place in a roasting tray with wine, vegetables and beef stock. Cover with tin foil and place in oven for 4 hours or until the meat is falling off the bone.
Put pickled onion ingredients in a jar and cover with vinegar. Refrigerate until ready.
20 minutes before ribs are ready, bring a large pan of salted water to the boil and cook pasta until al dente. Pour into a colander and drain thoroughly.
Meanwhile in a heavy bottomed pan melt butter and add flour stirring into a paste with a wooden spoon. Cook for 3 to 4 minutes or until it turns golden in colour. Slowly whisk pre-warmed milk into butter mixture and cook for 5 – 8 minutes or until the sauce coats the back of the wooden spoon.
Over a low heat add cheese and mustard. Mix until melted, stirring occasionally to stop it sticking. Fold in cooked pasta.
Combine the ingredients for the sour cream and season.
Transfer mac to your serving dish and top with rib meat, pickled onions and a dollop of sour cream.
Print