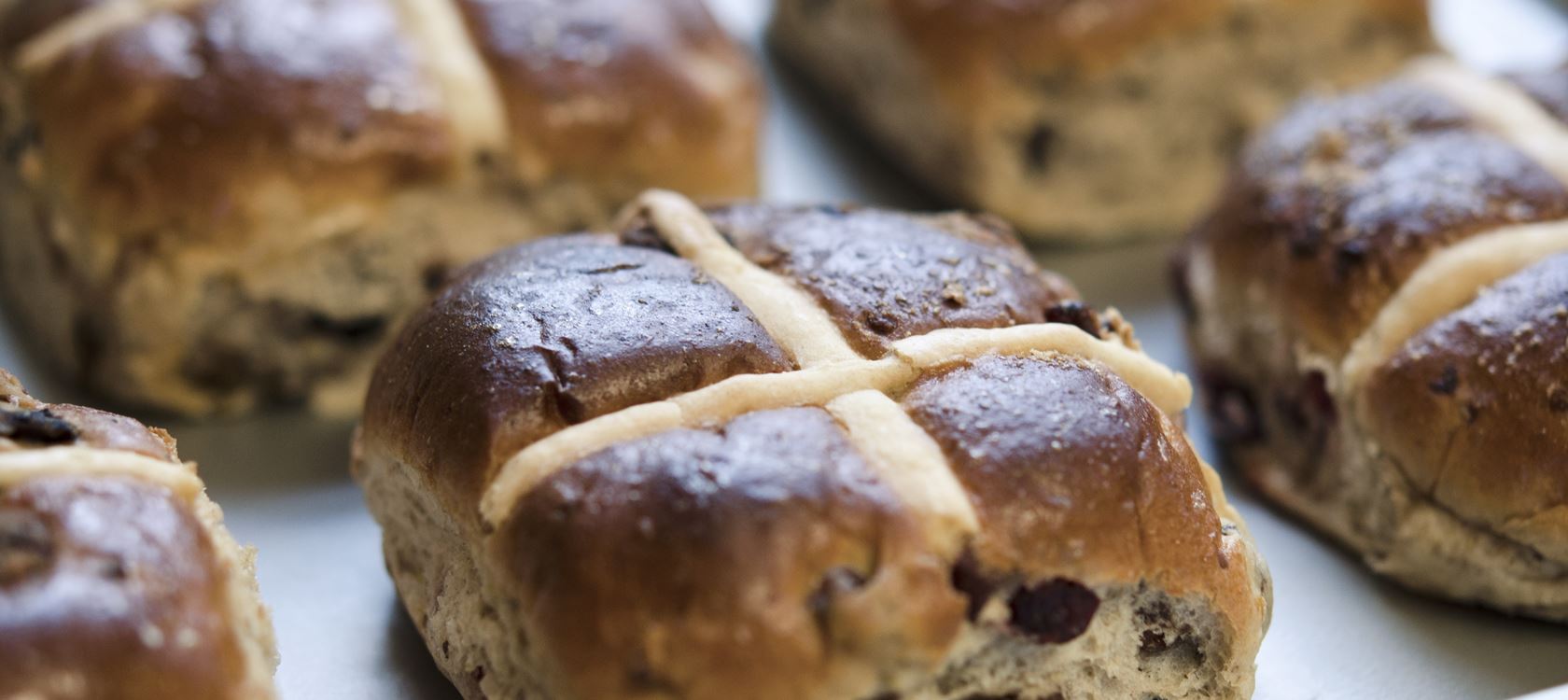 Hot cross buns are the quintessential taste of Easter, and now you can enjoy them slathered in delicious Lactofree® spreadable!
Ingredients
175 ml Lactofree Fresh Whole
50 g Lactofree Spreadable
110 g Honey
2 tbs Sugar
2 Sachets Dry Active Yeast
400 g Bread Flour
2 Pinches Pinches of Salt
Raisins
Large Free Range Egg
1 Egg White
1 Cup Cup Confectioners Sugar
1 tbs tbsp of Hot Water
Instructions
Instructions
1. Over low heat, gently warm the Lactofree® dairy drink, honey and sugar, stirring until mixed. Remove from heat when warm and transfer to a medium-sized mixing bowl. 2. Stir in the yeast and allow the mixture to rest for about five minutes, or until bubbles appear on the surface of the dairy drink. 3. In a small mixing bowl, combine the flour, salt and raisins. Set aside. 4. Add the eggs into the dairy drink mixture with a food mixer until well combined. Slowly add the flour mixture in short intervals, until you get a soft and slightly sticky dough. 5. Turn out the dough and knead until elastic (about 3 to 4 minutes). Return dough to the mixing bowl and cover with a towel in a warm place for 30 minutes to let it rise. 6. Preheat oven to 180ºC/350ºF/Gas Mark 4 and lightly oil a baking tray. 7. After the dough has risen, punch down, turn out and knead for 2 minutes. (Lightly flour your surface if the dough is sticky). 8. Return the dough to the mixing bowl, cover again with towel and allow to rise for another 30 minutes. 9. Turn the dough out onto a dry surface and divide into 12 balls. Knead each ball of dough lightly and place on baking tray. Cover buns on the tray with a towel and allow to rise for further 10 minutes. 10. Using a sharp knife in very swift motions, cut a cross in the top of each of the buns. Let the buns rest about 10 minutes more, or until the crosses spread apart. 11. Mix together the flour, sugar and water for the cross and pipe over the top of the buns using a piping bag. Brush everything with the egg white and bake until golden brown (about 20 minutes). 12. Remove from the oven and leave to cool slightly. 13. Serve warm and enjoy with a lovely cup of tea!
Print