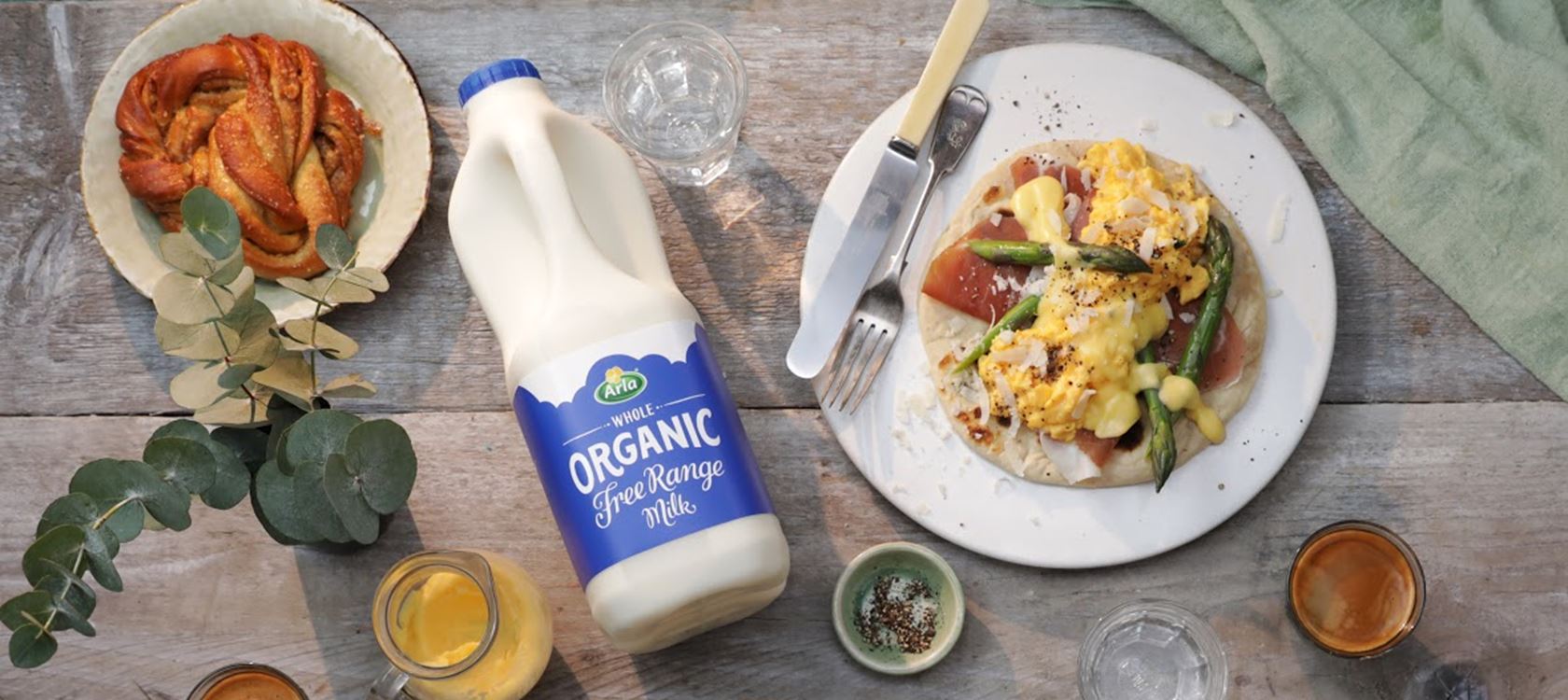 Scrambled Eggs Benedict Flatbread
There's nothing like a warm freshly baked flatbread for breakfast. Adorned with parma ham, asparagus and creamy scrambled eggs. This is a perfect start to a lazy weekend morning.
Ingredients
Serves 4
175 g Lurpak Unsalted Butter
285 ml Arla Organic Whole Milk
300 g Spelt Flour (Plus more for dusting)
1 g Pinch of Salt
½ Tablespoons tbsp Olive Oil
3 Tablespoon tbsp White Wine Vinegar
6 Black Peppercorns
½ tsp tsp Yellow Mustard Seed
1 Bay Leaf
2 Egg Yolks
6 Large Free Range Eggs
1 Lemon wedge
Freshly ground Black Pepper
12 Asparagus Spears
12 Slices Parma Ham
Parmesan Cheese to garnish
Instructions
Instructions
To make the flatbread
In a saucepan over medium heat, combine 50 grams of butter and 185 ml of the Arla Organic Milk and heat until just warmed through. In a medium bowl, mix together the flour and 1/2 teaspoon salt and then make a well in the middle. Pour the milk and butter mixture into the centre and use your hands to combine. If the dough is too sticky, add more flour. Turn the dough out onto a floured surface and knead until smooth, about 2 minutes. Place the dough into a clean bowl, cover with cling film and leave at room temperature to rest for 30 minutes.
When ready to cook, dust a work surface with flour and cut the dough into 4 pieces. Roll each piece into a ball and then roll out into large circles about half a centimeter thick. Place a frying pan over a medium heat and add the oil. Add one flatbread to the pan and cook until it bubbles up, 1 to 1 1/2 minutes. Flip the bread and cook on the other side for a further 1 to 1 1/2 minutes. Stack the cooked breads on a plate and keep them warm by placing a tea towel over them - this helps keep them pliable as well.
To make the hollandaise sauce
Put the vinegar, peppercorns, mustard seeds and bay leaf in a small saucepan and heat until the mixture has reduced to just 1 tablespoon. Strain to remove the peppercorns, mustard seeds and bay leaf and set aside to cool slightly. Place the egg yolks into the bowl of a food processor with the vinegar reduction and turn the food processor on. With the machine running, slowly pour the remaining 125 grams melted butter into the egg yolk mixture, taking care not to add it too fast. The sauce will start to thicken - when only the butter solids are left, stop. If the sauce is too thick, add a little hot water and then season to taste with a squeeze of lemon juice, and salt and pepper. Keep the sauce warm by placing it over a pan of warm water (not quite boiling) whilst you prepare the rest of the dish.
And finally, the toppings...
Trim the asparagus and place into boiling water for 3 minutes, or until cooked, then drain and set aside. Crack the whole eggs into a clean bowl and add the remaining 100 ml Arla Organic Milk. Season with 1/2 teaspoon each salt and pepper and beat everything together with a fork until well combined. Place the 2 tablespoons butter into a pan and set over a low heat. When the butter has melted pour the beaten eggs into the pan. Leave to set for 20 seconds then start to stir using a wooden spoon or spatula, bringing the mixture in from the sides of the pan. Your eggs are ready when they look silky and glossy - don't worry if patches still look a little undercooked, they will continue to cook even when you've removed them from the heat. To assemble the dish, place a flatbread on a plate and top with a few slices of parma ham and a few of the blanched asparagus spears. Spoon some of the creamy scrambled eggs on top and finish with a drizzle of the hollandaise. Finally add a good grind of freshly cracked black pepper and a grating of parmesan.
Print