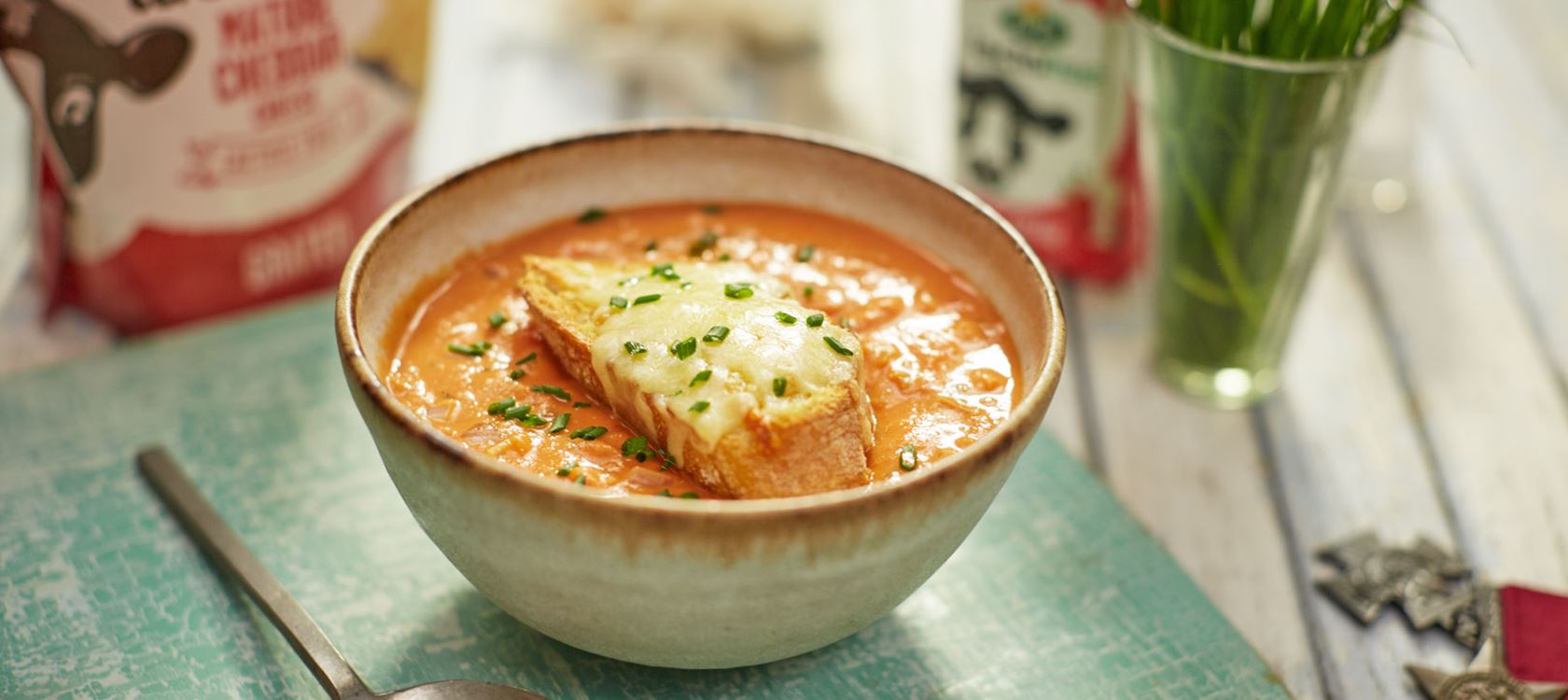 Rustle up roasted tomato soup for a winter warmer or light summer lunch. Go all out with these instructions for a luxurious and herby starter or meal.
Ingredients
680g Ripe Plum Tomatoes .
5 Tbsp Lactofree Spreadable (Melted) .
Minced Garlic Cloves .
1⅖ Dried Basil (Crumbled) .
1½ Tsp Fresh Ground Pepper .
1½ Tsp Dried Oregano .
2 Medium Sized Chopped Onions .
230 (One Cup) Vegetable Stock .
40 ml Dry Red Wine .
170 ml Lactofree Cream
2 tbs Tbsp Tomato Pure
60 g Lactofree Mature Grated Cheddar (Plus More For Topping Bread) .
4 Small Slices of Crusty Bread .
2 Tbsp Tbsp Chopped Chives
Instructions
Instructions
Preheat oven to 245C/475F/Gas9.
Halve tomatoes lengthwise and lay them cut sides down in a baking tray.
Brush generously with 3 tablespoons of melted Lactofree spreadable and sprinkle with garlic, oregano, basil and pepper.
Roast tomatoes until their edges are charred
Scrape tomatoes, from pan into food processor along with melted Lactofree Spreadable, and herbs.
Process until not quite smooth (leaving small chunks and charred black specks).
In a saucepan cook onion in remaining 2 tablespoons of melted Lactofree Spreadable until translucent.
Whisk in roasted tomato puree, stock, and wine.
Then whisk into tomato paste.
Heat the Lactofree Cream and whisk in to the tomato mixture.
Stir in a handful of the Lactofree Grated Cheddar.
Add salt and pepper to taste and bring soup to a simmer.
Pour into individual serving bowls
Top with slices of crusty bread
Sprinkle over Lactofree Grated Cheddar
Grill until cheese is melted and starting to crisp
Top with fresh chives and salt and pepper to taste
Serve and enjoy
Print