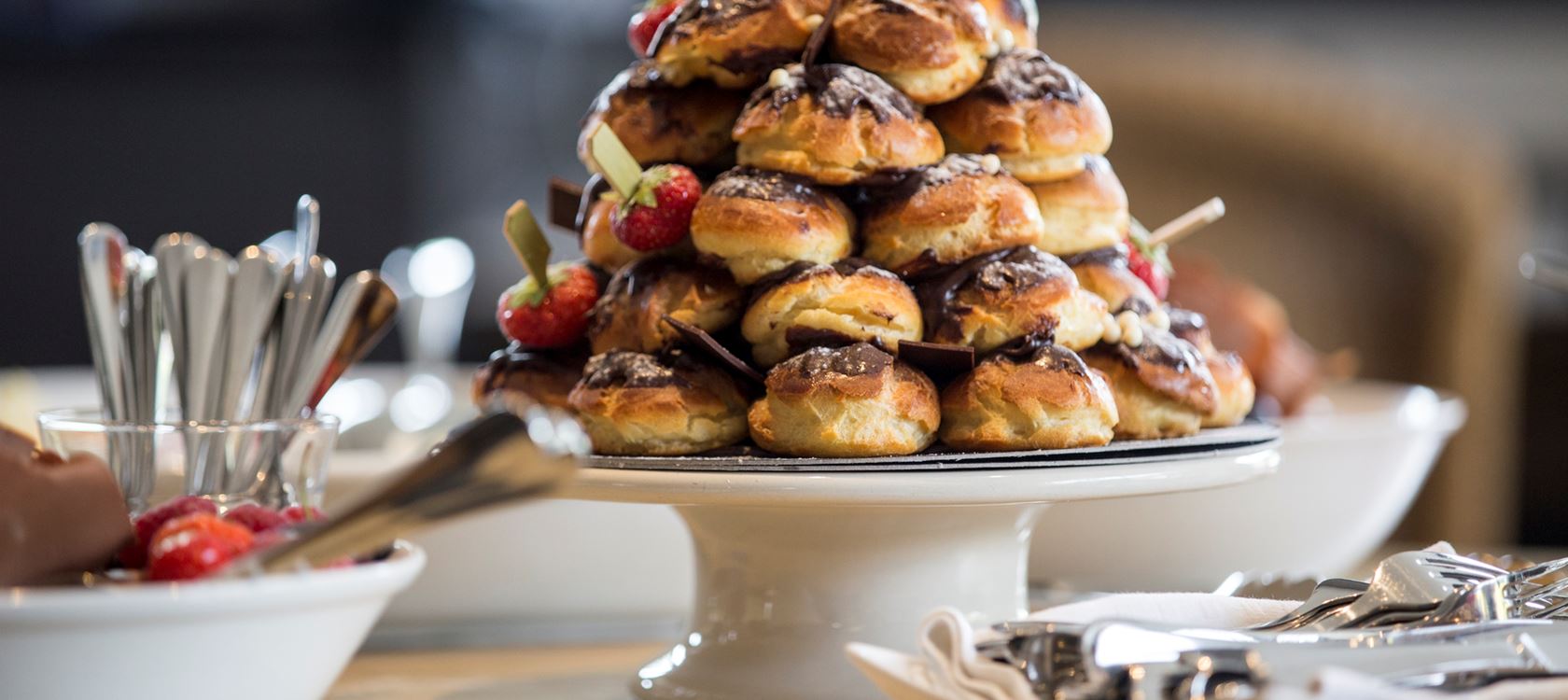 Create a lactose-free dessert centrepiece at your next dinner party with our soft and creamy profiteroles recipe.
Ingredients
150 g Plain Flour
Pinch of Salt
2 Tbsp Tsp Caster Sugar
2 Glasses Cold Water
125 ml Lactofree Dairy Drink
110 g Lactofree Spreadable
5 Large Free Range Egg
375 ml Lactofree Cream
150g Dairy-free dark chocolate
1 tbs Tbsp Golden Syrup
Instructions
Instructions
- Preheat the oven to 200°C (180° fan) / 400F / gas 6 and line a large baking tray with greaseproof paper. – Sift together the flour, salt and sugar into a mixing bowl.
1. Combine the water, dairy drink and spreadable in a saucepan and bring to a simmer, stirring, until the spreadable has melted.
2. Bring the liquid to the boil and beat in the flour mixture, removing from the heat temporarily, before returning over a reduced heat.
3. Beat until you have a smooth dough; beat in the eggs one at a time, off heat, until shiny.
4. Spoon into a piping bag fitted with a straight-sided nozzle and pipe blobs onto the tray.
5. Bake for 10 minutes before reducing the heat to 160°C (140° fan) / 325F / gas 3 and baking for a further 10-15 minutes until golden-brown and crisp; remove to a wire rack to cool.
6. Once cool, whip the cream in a mixing bowl until stiffly peaked; spoon into a piping bag fitted with a straight-sided nozzle.
7. Bore small holes in the base of the buns and pipe in the cream to fill.
8. Melt the chocolate and Golden Syrup in a heatproof bowl set atop a saucepan of simmering water until smooth; remove to one side to cool and thicken slightly.
9. Dip the tops of the filled buns in the melted chocolate before serving in bowls.
Print