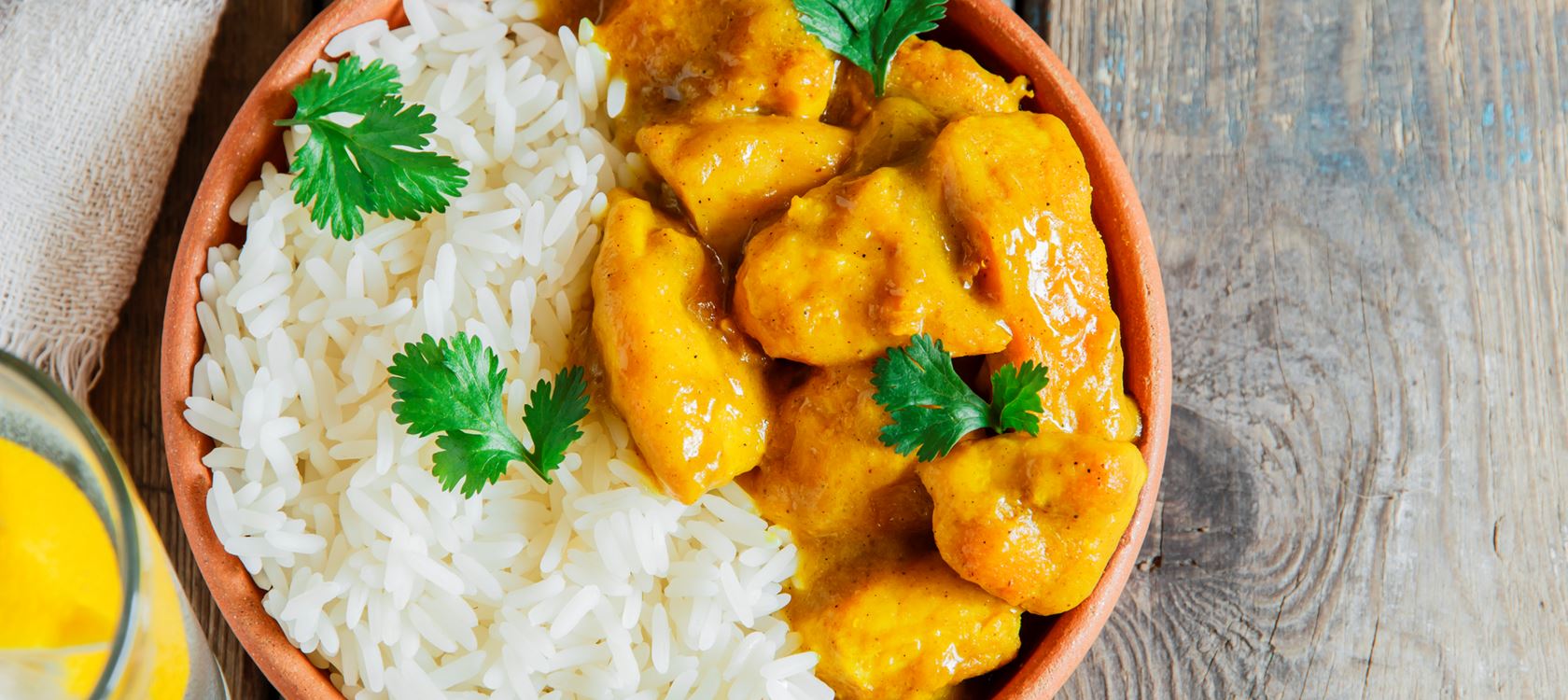 For those who like a mild and creamier curry, chicken pasanda fits the bill. Learn how to make the popular dish from the North Indian region.
Ingredients
1 kg Chicken Thighs
250 ml Arla Lactofree Cream
100 g Diced Onion
3 Fresh Ginger
2 tsp Ground Coriander
1 tsp Red Chilli Powder
2 Cloves Garlic
8 g Green Cardamom Pods
90 g Ground Almonds
20 g Cashew Nuts
80 ml Warm Water
¼ Cup Fresh Coriander
30 g Arla Lactofree Spreadable
For The Rice
450 ml Warm Water
8 g Green Cardamom Pods
1 Red Chili Pepper (Whole)
50 g Arla Lactofree Spreadable
300 g Basmati Rice
1 tsp Cinnamon Stick (Whole)
3 Pinches Maldon Salt
Instructions
Instructions
Step 1
For the Curry: Peel and slice the onion, peel and thinly slice the garlic, then peel and grate the ginger. Crush the cardamom and remove the seeds. Cut the chicken into pieces and rub the ground coriander, chilli powder and cardamom seeds into it. Leave to marinade for 30 minutes, longer if possible.
Step 2
Heat a saucepan, add the oil and when hot add the onion and saffron and cook gently for 5 minutes. Add the garlic, ginger, a pinch of salt and ground almonds, cook for a further 2 or 3 minutes the add the chicken and Lactofree® cream.
Step 3
Simmer gently for 15 minutes. Roughly chop the cashews and coriander and top the finished dish with them when serving.
Step 4
For the Rice Wash the rice well. Crack the cardamom and slice the chilli thinly. Place the rice in a saucepan and cover with the water (1 and a half times the quantity of rice).
Step 5
Add the cinnamon stick, cracked cardamom pods, spreadable, and salt. Bring the saucepan to the boil. Once boiling, reduce the heat to a simmer and cover with a lid. Cook the rice for 10-12 minutes or until all of the liquid has been absorbed.
Step 6
Remove the pan from the heat and allow the rice to finish cooking away from the heat. Break the rice up with a fork just before serving with the curry. Serve with the sliced chilli on top.
Print